Description
Atlanta skyline #815A night pencil cityscape drawing, which is for sale here, at discount with prints by artist Stephen F. Condren, SAIC, of Condren Galleries, a Fine Arts Gallery, offering JPEG & PDF prints.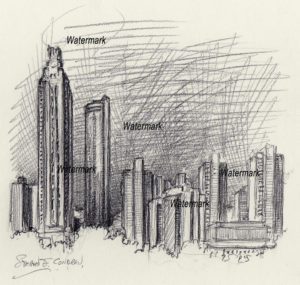 This is my favorite pencil drawing of the Atlanta, Georgia, skyline showing it at dusk. As seen from historic Jackson Street Bridge, I have attempted to do here in the drawing is to bring out the character of the buildings. Since I was using pencils the image would be black & white leaving a lot of possibilities for making dramatic gestures without having to compromise the structures to color. The advantage to black & white drawings like old films is their ability to convey solid character, which lays at the heart of the subject, in this case the Atlanta, Georgia, skyline. Atlanta skyline pencil drawing of downtown at night.
Tones
The difference between pen & ink and pencil is the degree with which you are able to express tones gradually. With the pencil you can simply press it more firmly and the line become darker to your satisfaction, this is not true of the pen which relies on crosshatching to change tone and if this is not done carefully it can make the drawing too detailed and tedious thus losing the grace of the drawing. The pence works beautifully here to express the light of the setting sun on the skyline because as you can see I have used both crosshatching and pressure on the pencil to get the gradual change of light the hits the sides of the office buildings.
Structures
Over all I am very pleased with the look of the drawing, I am exceedingly pleased with the large office tower that commands the left side of the drawing. I have used high contrast between the buildings to play against the light hitting on the structures lift face. The darkened windows intensify the work to make is look pensive and interesting. If there is one thing that the high contrasting tones do to this drawing is make it very interesting to the point the you keep coming back to it, which is the sign of a successful work of art. From here it is not far from the Georgia State Capital building, the Fox Theatre, and Centennial Olympic Park.
Posts
Atlanta Skyline Pencil Drawing Of Downtown At Night ~ SKU# 815,
Related Links
Atlanta Skyline Drawings, Atlanta pen & ink skyline, Atlanta skyline art, Philadelphia skyline charcoal drawing, Chicago skyline pen & ink, 815, 819, 820, 818, 804, 2878, 858, 863, 825, 826, 822, 859, 823, 857, 860, 824, 868, 848, 865, 867, 866,