stephen@condrengalleries.com ~ (312) 303-0207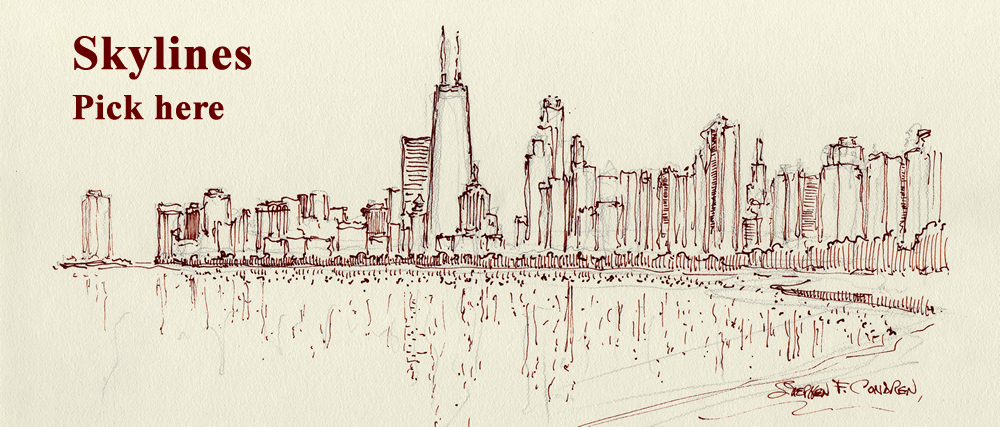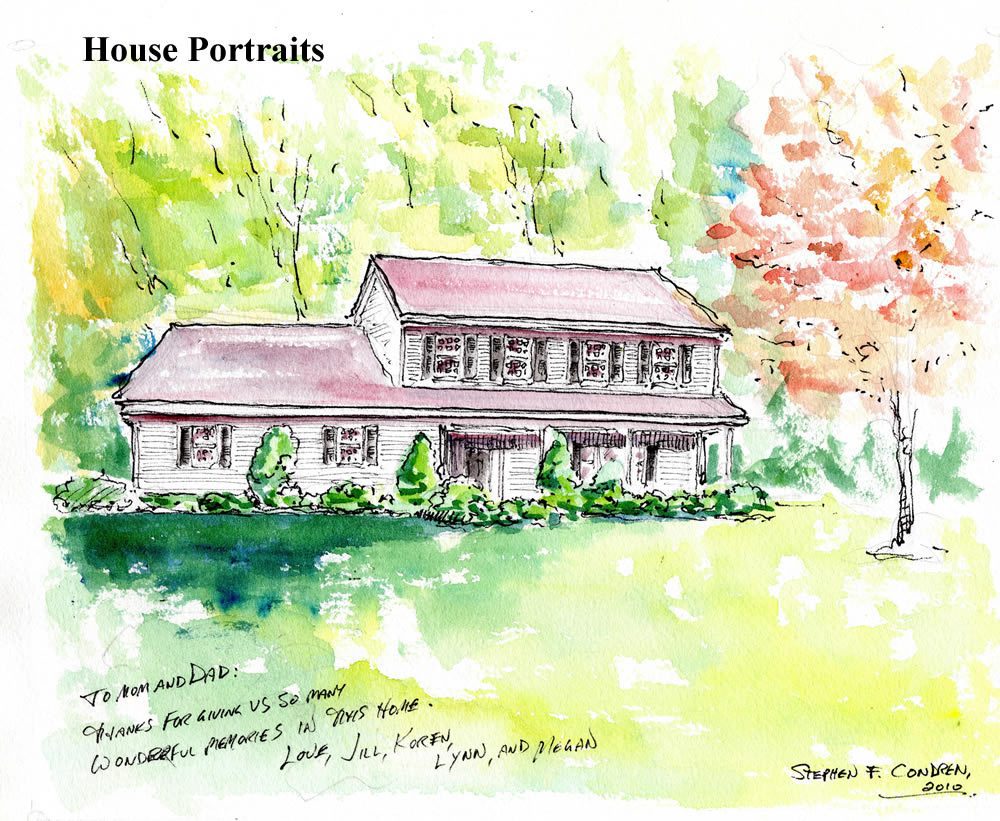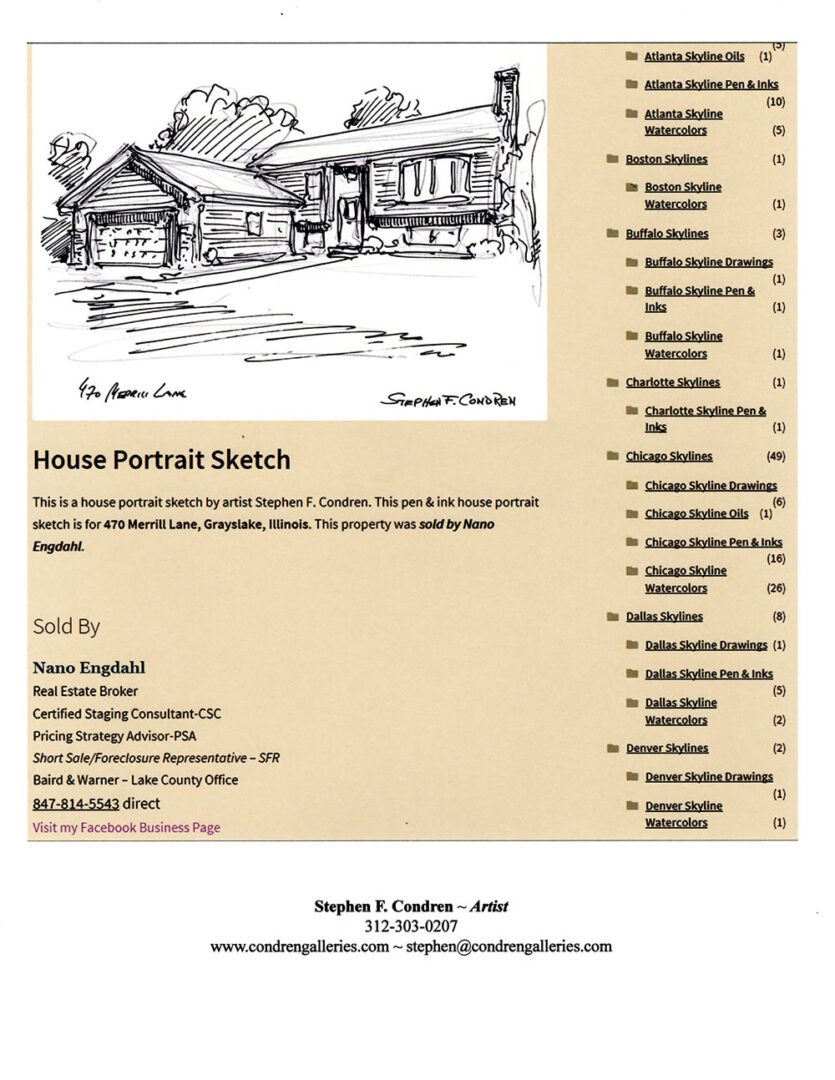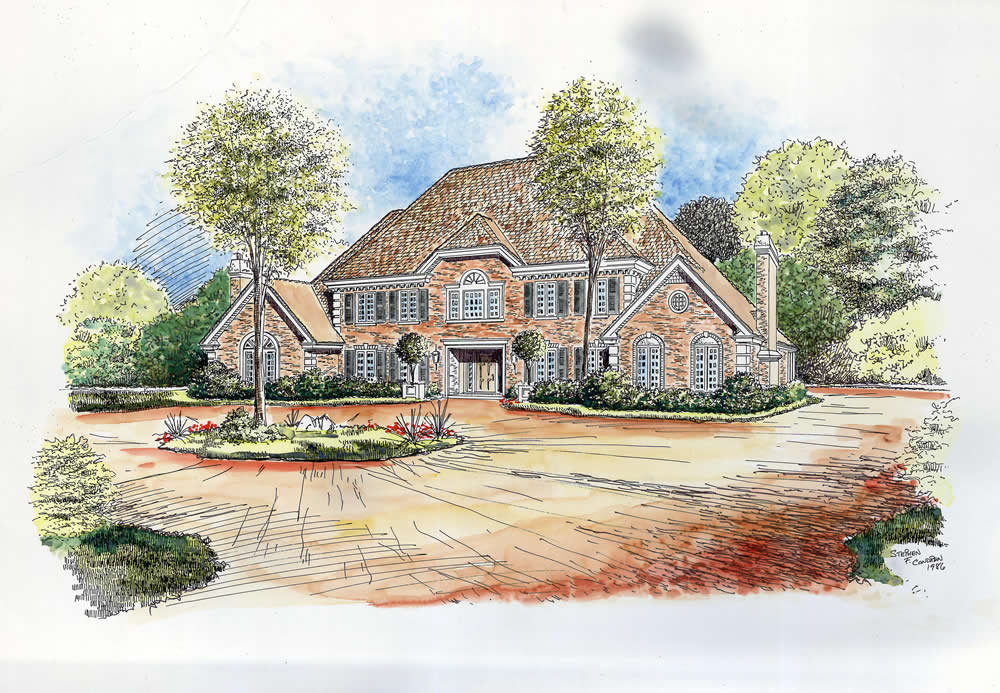 Skylines & House portraits in watercolor with pen & ink drawings
Skyline pen & ink drawings. Welcome to Condren Galleries where I offer a large selection of skylines and house portraits. The focus of my work is on skylines, portraits, figure drawing, landscapes, architectural renderings, and house portraits.
Since my youth I have held firmly to drawing and it is drawing that I do best, for drawing is spontaneous. Drawing is like poetry in that both are right from the heart and direct from pen and paper. I work very will in both pencil and pen & ink. In working with pen & inks I particularly enjoy the hatching and cross hating process, because for me it brings out the heart and soul of the subject as well as releases an artistic spirit that lies deep within me.
As a graduate of the School of the Art Institute of Chicago, where I majored in drawing and painting, I offer a wide selection of themes. These themes range from skylines paintings and drawing to figure drawings and portraiture. When you select the Themes link it will take you to a page that has other categories to select from such as landscapes, portraits, and landmarks.
Please take a moment to look through my work by selecting from the links below. You will find many works that utilize drawing as the foundation of the works, however, there are some wonderful watercolors that are spontaneous and done with little to no line work. The strongest work of art here have pen & ink in them. Skylines and house portraits in watercolor with pen & ink drawings.
Portraits
A focus of my art since I was a child are portraits. The process of creating portraits of people in any situation always very good for me. I especially like to draw live on the spot. I of course can draw from photographs or computer images but drawing free hand with the person right in front of you is the best!
Volume Print Orders
Print orders can be placed for large quantities or volume order. When you place an order for 10 or more prints you get a 25% discount. The most popular size prints are those that are matted in the size of 11″ x 14″.
Prints can be of any work of art in my gallery ranging from skylines, landmarks, and bar scenes. You can order prints in any assortment so all of the prints do not have to be of the same work of art. For example you can place a volume order for 25 prints, having 10 prints of a skyline and 15 prints of a bar scene, or any other assortment.
Scans
Scans are a crucial tool for making reproduction of artwork to make printed materials and for advertising.
Large Prints
Large prints are a perfect compliment to the standard 11″ x 14 matted prints. Prints come in the size of 14″ x 17″ and are not matted. This give you the flexibility to mat and frame the print to your custom needs.
Architectural Renderings
In the day of computerized CAD software there is a niche for free-hand artist made architectural renderings, done the "good old way" with T-square and ruler! The renderings that I do are all personally made by me with no use of any computer or photographic elements. My renderings are a work of art and are respondent.
Loeb Mansion
Richard Loeb
Out of the tragedy of the horrific murder of Bobby Franks by Richard Loeb and Nathan Leopold rises the image of one of the most historic homes in the country and that is the home of Albert Loeb ~ the Loeb Mansion. The Loeb mansion is the homestead of Richard Loeb who grew up in Kenwood on the south side of Chicago in the first quarter of the 20th Century.
Architectural Renderings
The two architectural renderings that I have created were my final project for my rendering class at the College of DuPage. I went with my cousins and friends on trips down to Kenwood to take photographs of the dilapidated mansion that had fallen into ruin due to infamy of the Leopold & Loeb murder case of 1024.
Photos
Shortly after having taken my last set of photos in the summer of 1971 the mansion was torn down. I had planned another trip to take images of the interior before the edifice was raised but that did not come to fruition.
Chicago History Museum
In 2005 when the Chicago History Museum was having an exhibit of the Leopold and Loeb case I had lunch with the curator of the exhibit at the Union League Club of Chicago and at the end of the lunch I showed him the two renderings. He was immediately taken by the works of art and said "Had I known that you were to present me with such a work I would have brought forms of release with me.
Permanent Collection
Many people come to the museum asking to donate items to our collection, however, I am coming you as ask you to donate to the museum!" Of course I had only though of loaning the renderings to the museum for the Leopold and Loeb exhibit but I was so touched by the request that I could not let him down. These now famous renderings stand in the permanent collection of the Chicago History Museum.
Pencil And Pen & Inks
I enjoy working in both pencil and pen & ink. When I work with pencil I like to make bold strong lines complimented by firm hatching and cross hatching. While when I work with pen & inks I tend to be slower and more meticulous.
Figures
Running a close second to portraits is my love for drawing figures. In fact my major at the School of the Art Institute of Chicago was drawing and painting. Our drawing classes worked with live nude models. The models were male and female and at time in small groups or clusters. One time we had a nude middle age female dancer that actually danced as we drew!
Bar Scenes
One of my favorite genres for drawing are bar scenes. Bar scenes are unique in that you have live models at work for you all the time that offer a vast spectrum of expression and movement. Most of my bar scene drawings are done in pencil because I sit in the bar and draw right on the spot. I do on occasion sit at the bar and then do some pen & inks as well.
City Scenes
A wonderful compliment to skylines are city scenes. The views or vignettes of the city are times.
Children
Here you have action scenes of children splashing in the waters of Crown Fountain at Millennium Park, or Chicago Cubs fans walking to a game at Wrigley Field.
Landmarks
The subject of landmarks can be either a building or large site. For example you have the Golden Gate Bridge with is a famous landmark but also a large site. Whereas as with a Chicago Drawbridge House you have a small structure at the end of a bridge. All the same each landmarks offers a charm all of it's own to each of us.
Landscapes
Complimenting my love for portraits and figures is my love of nature that is expressed in my landscapes. I have done landscapes all of my life and in all genres.
Knights of Columbus
I am a member of the Knights of Columbus.