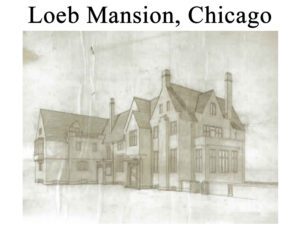 Architectural Renderings #112Y are structural drawings with JPEG & PDF scans and prints by artist Stephen F. Condren, BFA-SAIC, of Condren Galleries, a Fine Arts Gallery. Because architectural renderings are great, structural drawings are great!
Pencil architectural rendering of the Loeb mansion of the Leopold and Loeb murder case of 1924 in Chicago. The mansion was at 5017 S. Ellis Avenue in the Kenwood/Hyde Park district of Chicago. This rendering was done by artist Stephen F. Condren for Condren Galleries product SKU# 5000. These now hang in the permanent collection of the Chicago History Museum.
Strong bold lines make excellent renderings, because the show the contour of the building. Because buildings are large, structural drawings are large for Architectural Renderings #112Y.
Showing the single result