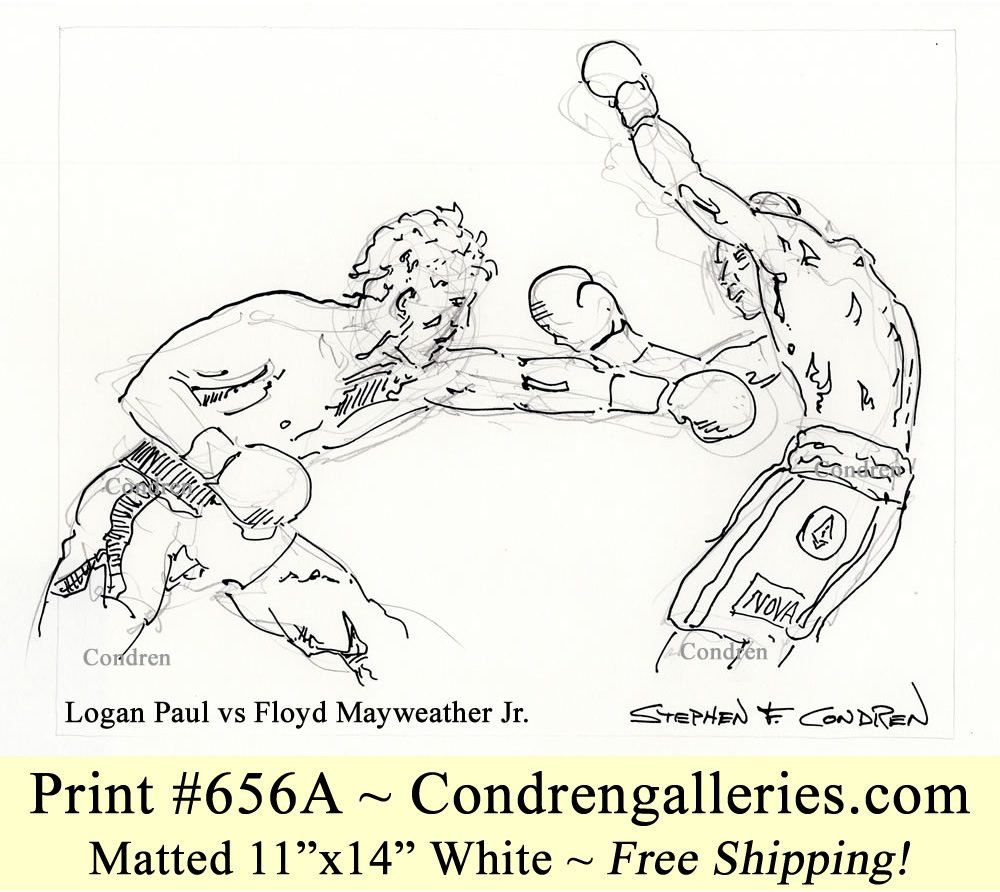 Logan Paul 725Z vs Floyd Mayweather fighting in the boxing ring, pen & ink celebrity drawing by Stephen Condren.

Logan Paul 725Z
Celebrity
This fine pen & ink drawing of Logan Paul and Floyd Mayweather shows them at it in the boxing ring! It is amazing that Logan did as well as he had, because he is no longer into boxing. However, Floyd Mayweather is a professional boxer and the best.
Celebrity
Image
The drawing lends itself nicely to a black pen & ink rendering because of the delineation of the two main figure is the drawing.
Drawings
Rendering
This drawing is a study in contour lines. If you look closely I did not make use of many hatch lines, just enough to show the depth of the image. Most of this drawing is done in contour lines with accents on body joints, and folds in their clothing. Since this is an action scene, I was more concerned with the movement of the figures rather than the details of the face and bodies. I had thought about putting images from the surrounding ring in the drawing but I decided against it because it would clutter up the view.
The Model ~ Giving Full Credit
Logan Paul 725Z
Instagram, Twitter, Facebook
The model(s) for this fictional rendering has no association with the drawing, because it is not about the model, further, the model's sexual preferences are not known or suggested in this post.