Description
Atlanta skyline #848A pen & ink watercolor is popular because of it's view of Midtown, and the print comes matted 11″x14″.
Atlanta skyline #848A is a pen & ink cityscape watercolor, which is for sale here by artist Stephen Condren, BFA, SAIC, of Condren Galleries.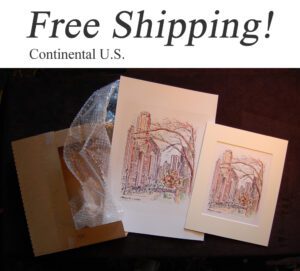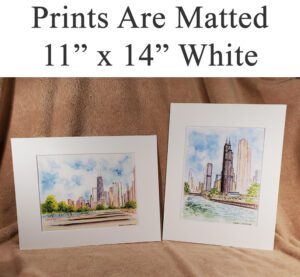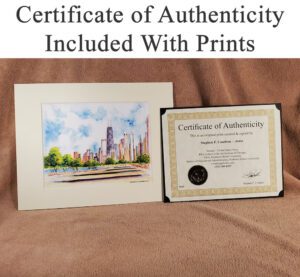 Cityscape
This is one of my favorite watercolors of one of my favorite cities Atlanta, Georgia. The view is of Midtown near Piedmont Park. My goal in this watercolor was to achieve a lose and fresh watercolor yet at the same time capture the architecture of the building without having the look of an architectural rendering, which I have done for architects for years. The result is this splendid watercolor that truly captures the beauty of the structures and the landscape that is Atlanta.
Atlanta Skyline #848A
As Americans it is an honor to have this great city in our country for she has brought dignity, beauty, and grace that only the South know how to offer. Like her gracious sister city Natchez, Mississippi, Atlanta is steeped in history and tradition which has manifest itself in some of the most beautiful architecture in the country. If you look carefully at this watercolor you will that great attention to detail have been placed on the motion of the line work making the vertical shafts on the office towers. These lines are free and fresh, yet are exact and give an accurate account of the structures. The watercolor wash in light maroon and purple gently set off the shade and shadow of the buildings. Also, the scale of the building in the watercolor is grand because it is close enough to allow the view to see the fine details at all levels. This watercolor is truly a testament to the beauty and grace of Atlanta's modern skyline.
Atlanta Skyline Drawings, Atlanta pen & ink skyline,