Description
Atlanta skyline #868A Pen & ink cityscape watercolor is popular because of it's view of downtown at night and the print comes matted 11″x14″. Prints come in large, matted, and framed.
Atlanta skyline #868A pen & ink watercolor cityscape painting at night, which is for sale here, at discount with prints by artist Stephen F. Condren, SAIC, of Condren Galleries, a Fine Arts Gallery, offering JPEG & PDF prints.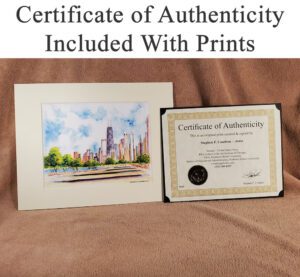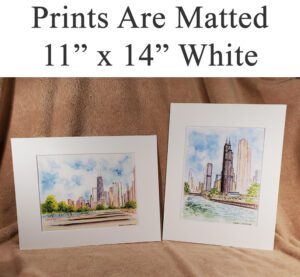 Key elements to this work of art are as follows:
Skyline
This watercolor painting of Atlanta, Georgia, is of the downtown in the evening.
Cityscape
Most of the city of Atlanta has a very vibrant and pulsating skyline that show in all of the city lights and movement. Few city skylines have so much light at night especially with the density make of Atlanta.
Watercolor
The watercolor has pen & ink in it to address the architectural details of the buildings at night. It was my task here to capture the glow and detail of the city at night which is a most difficult task because on the one hand at night you lose sight of the architectural details so you have to very carefully place each line so as not to lose the evening light effect.
Skyscrapers
You will notice that there is a lot of "glow" between the skyscrapers, this is due to the lights from the office buildings themselves and from the street lights as well as from automobiles.
Sky
In doing the sky I had to keep in mind at all time the foreground because it too is darker thank the building and my concern was that having both foreground and sky "squeeze in" the structures and flatten the imagery which is not at all my intention.
Tones
However, in Atlanta skyline #868A, I have carefully added maroon tones to the evening sky so as so give depth to the space that it is. Also, I worked the brush stroke on the paper in such a manner as to let the watercolor breathe rather than smother the paper with paint washes and lose the design.
Post
Skyline Art Link
Related Links
Atlanta Skyline Drawings, Atlanta pen & ink skyline,