Description
Atlanta skyline #867A sunset cityscape watercolor is popular because of it's view of Piedmont Park, and Lake Clara Meer, and the print comes matted 11″x14″.
Atlanta skyline #867A pen & ink watercolor cityscape painting at sunset, which is for sale here.  Discount offered on prints by artist Stephen F. Condren, BFA, SAIC. Condren Galleries is a Fine Arts Gallery, offering JPEG & PDF scans.
Key elements to this work of art are as follows:
Watercolor
In this watercolor of the Atlanta, Georgia, skyline it is dusk over Piedmont Park. Since the sun is starting to set the vivid colors of the day turn to somber shadows with violet tones. However, the sky is set a flame in beautiful arrays of color almost like a rainbow for all of us to appreciate.
Shadowing
This view of the skyline is looking south as the sun is setting from the west to our right. As you can see the building are now in shadow and only their forms can really be seen. Even these forms have taken on a muted shape since the reduction of light hampers us from seeing all the details.
Piedmont Park
There is just a suggestion of pen & ink in the watercolor to give the necessary structural form to the buildings and the trees in Piedmont Park. It is best with the use of watercolor here not to use too much ink for then you will turn the watercolor into a wash and relegate the role of the colors with is key in this painting.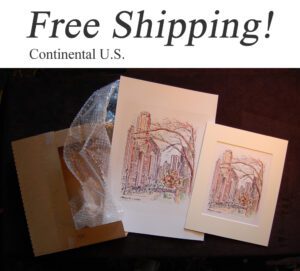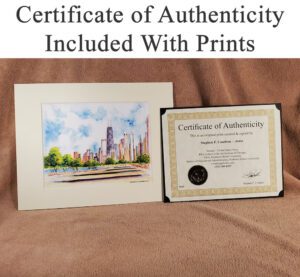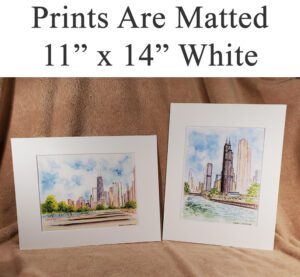 Related Links
Atlanta Skyline Drawings, Atlanta pen & ink skyline,