Description
Atlanta skyline #820A pencil cityscape drawing, which is for sale here, at discount with prints by artist Stephen F. Condren, SAIC, of Condren Galleries, a Fine Arts Gallery, offering JPEG & PDF prints.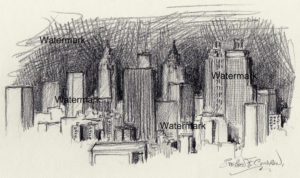 Key elements to this work of art are as follows:
Shading
This pencil drawing of the Atlanta, Georgia, skyline is done with soft leads. Atlanta skyline 820, pencil drawing of downtown at night.
This is a pencil drawing of downtown Atlanta, Georgia at night. The view is taken from Jackson Bridge and show the early evening sunset.
Light
Light at dusk has a gentle blending of tones in the evening light with the shade and shadows of the skyscrapers as they cast their image to the smaller structures below.
Post
Atlanta Skyline Pencil Drawing Of Downtown skyscrapers At Night ~ SKU# 820
Skyline Art Link
Related Links
Atlanta Skyline Art, Atlanta Skyline Drawings,