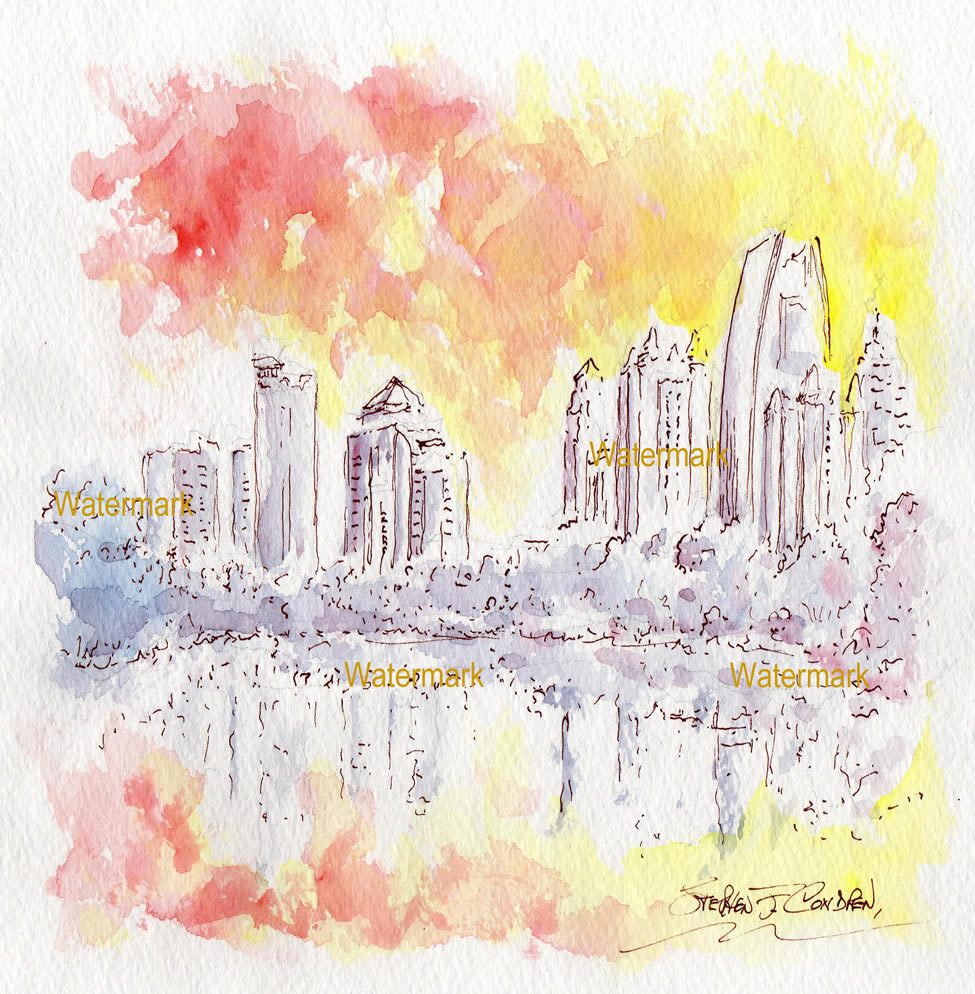 This article is about Atlanta skyline art, which is for sale at discount with prints by artist Stephen F. Condren, BFA-SAIC, of Condren Galleries, a Fine Arts Gallery, offering JPEG & PDF scans. The city of Atlanta is rich in history and also rich with architecture. Often called the "Manhattan of the south", Atlanta boast a prominent cityscape.
As an artist I work with four mediums for doing skylines: Watercolor, Pen & Ink, Pencil, and Oils.
Atlanta Skyline Art In Watercolor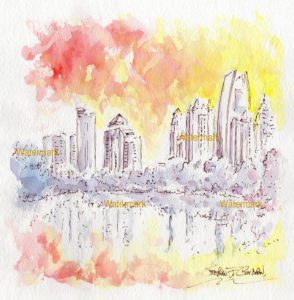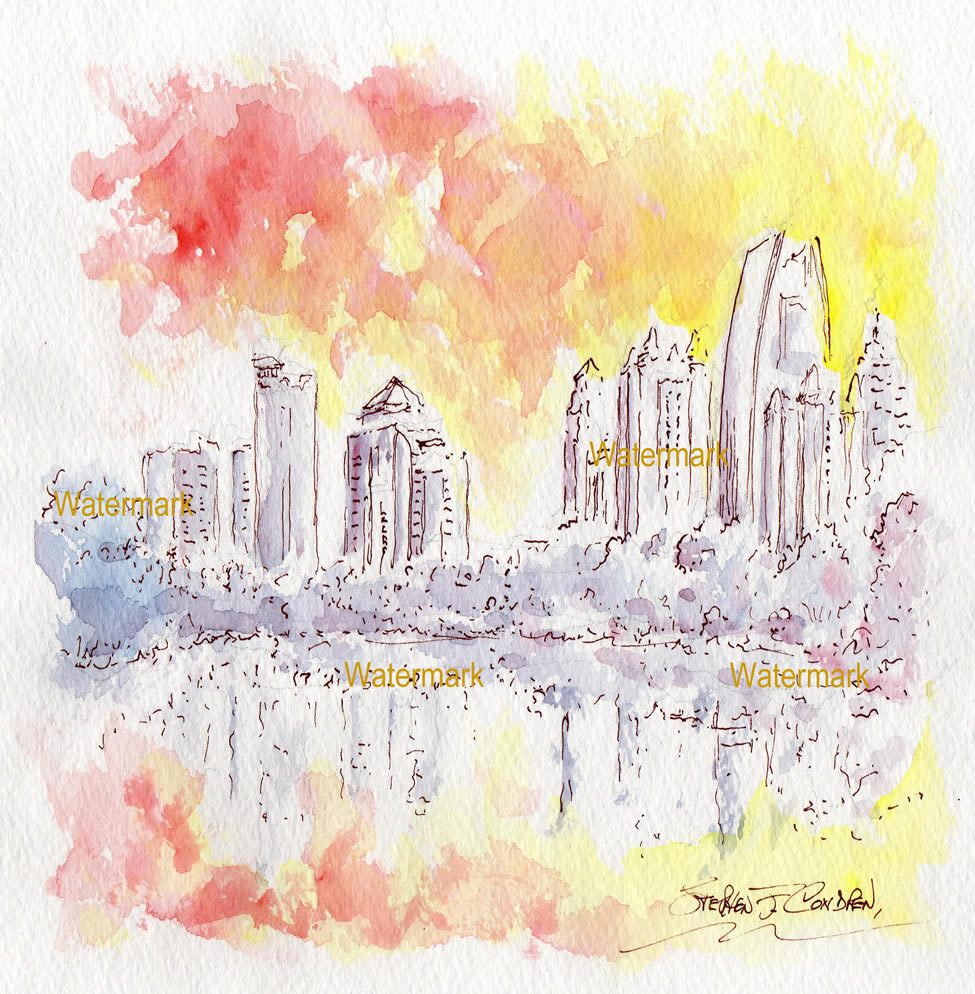 Watercolors nicely lend themselves to architectural subjects since they are translucient and let the delineation of the pen & inks and pencil show through. This is especially important when dealing with precise architectural details. As with oils, I look working with sunsets a lot with watercolors. The one think that you have to be careful of is how demanding they are. Watercolors, unlick oils, are very unforgiving. One you put the brush down that is it, you only have moments to work out your image. Oils on the other hand will let you scrape off the entire section and start over again!
Atlanta Skyline Art In Pen & Inks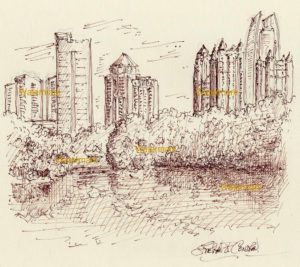 Pen & inks more than any other medium lend themselves so naturally to architecture due to the sharp crisp ink lines. These lines clearly bring out all of the architectural details. To make shade and shadows I make use of hatch lines and cross hatching for darker tones.
Atlanta Skyline Art In Pencil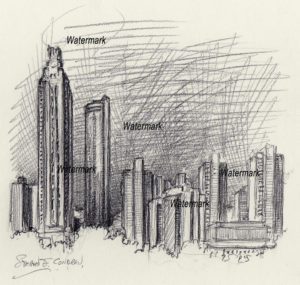 Pencil much like pen & ink lends itself to linear subjects. I have always enjoyed working with pencil and charcoals, I especially like to work them with night scenes.
Atlanta Skyline Art In Oils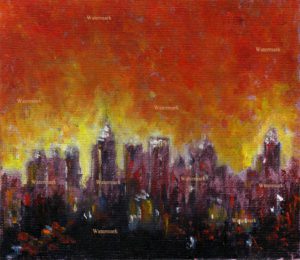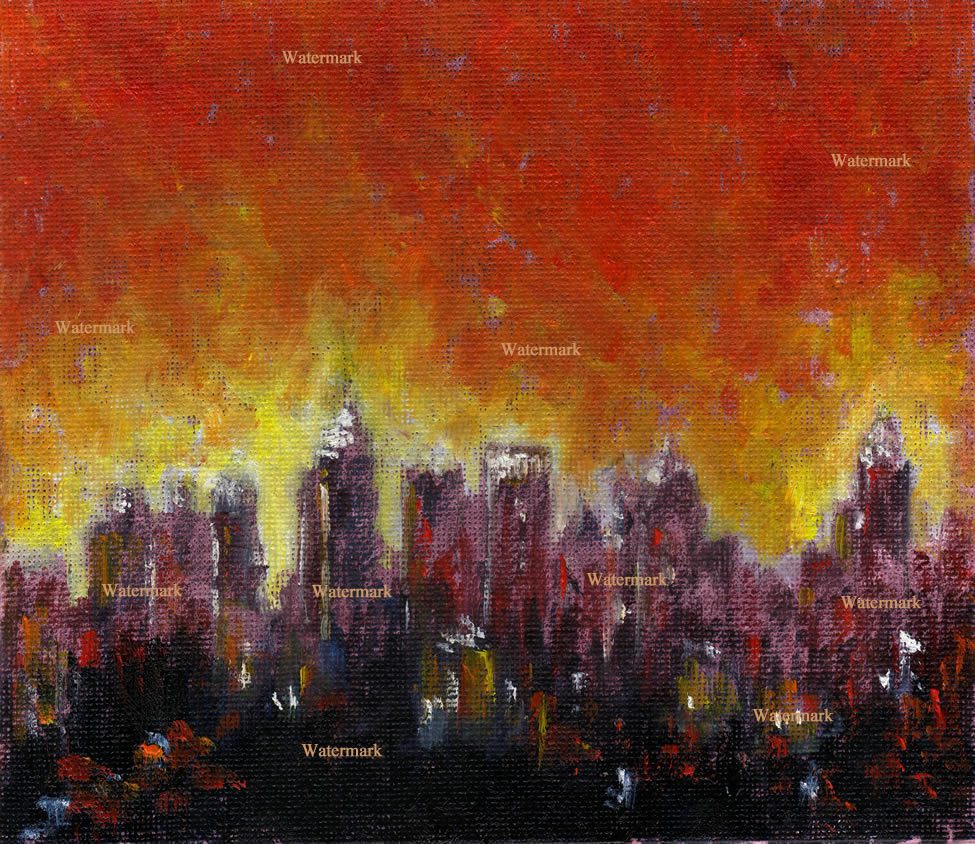 Oils are the most difficult medium to apply in architectural subjects. I will say that no medium is stronger than oils. The greatest quality that oil give are the wonderful blending of the texture of the pigment. The rich, thick oil is ideal for doing sunsets and Barbizon like artwork. The weakest part of oils and skyline is the lack of delineation. I use vague outlines of high contrasting pigments to give the contour of the structures. It take great skill and acumen to bring out the images of the buildings without losing the integrity of their various structures and end up with muddy looking sticks!
Atlanta Skyline Art Link:
Stephen F. Condren ~ Artist
312-303-0207