Description
Manhattan skyline #836A pen & ink watercolor cityscape painting, which is for sale here, at discount with prints by artist Stephen F. Condren, SAIC, of Condren Galleries, a Fine Arts Gallery, offering JPEG & PDF prints. Because Central Park skylines are great, their prints are great!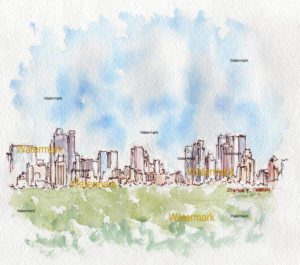 Key elements to this work of art are as follows:
Central Park
This elegant watercolor of Central Park in Manhattan Island is focused on the beauty and contour of the skyline. The delicately placed with the greenery of the park is done with fine graceful pen & ink line work. All too often pen & ink can be too detailed and take away from the freshness of a watercolor where in this work of art you have the grace and beauty of line complimenting the watercolor wash.
Posts
Related Links
Atlanta skyline drawings, Atlanta pen & ink skyline, Atlanta skyline art, Philadelphia skyline charcoal drawing, Chicago skyline pen & ink, Los Angeles skyline watercolor, Manhattan skyline watercolors,