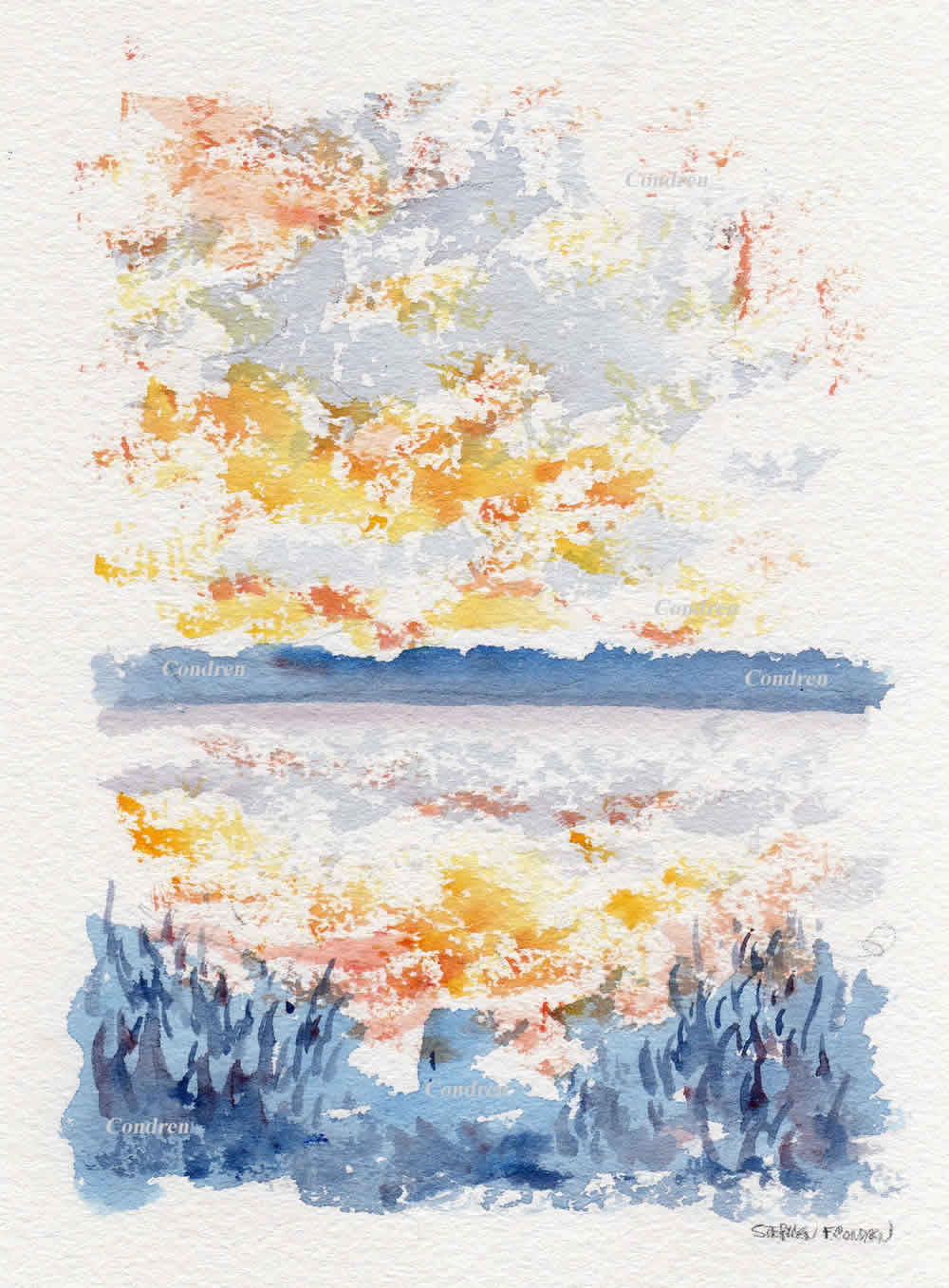 The greatest swindle #532Z, Theological fraud, by selling the myth of Jesus as historical truth, by artist, and Veteran, Stephen F. Condren, of Condren Galleries, a Fine Arts Gallery. Prints & Scans Of This Watercolor #532Z ~ Order Here.
Posted on Google+, Facebook, Twitter, Linked-in, and Tumblr.
The greatest swindle #532Z
Theological Fraud
The difficulty that I have will all Theologians is their lack of honesty, because they are not willing to be honest with you, and themselves. How many "Scientific" books do I have to read that are telling me "with facts" that the world is flat? Should I make a career of reading "Scientific" flat earth books? Of course not, just one volume is more than enough. However, this is exactly what is happening with Theologians, because their world is flat, and they want us to buy it.
Perspective, Clarity, & Accuracy
Below is my famous Architectural Rendering of the Loeb Mansion, because it is hanging in the permanent collection of the Chicago History Museum. In Theology, like my rendering I demand a sound perspective, clarity, and accuracy, because I will not accept even the most sophisticated sales pitch. In the rendering that you see below there are no smoke & mirrors, or shadows covering the truth, because everything that I do is crystal clear.
Spare me the Existentialism, the Post-structuralism, and other academic jargon that is nothing but smoke & mirrors, because they are holding the cards up their sleeve, at your expense. This is my life, and I will not have it mangled by the hands of swindlers.
I Have Ready Everything
For decades I have been reading Theology, because I went to Divinity School. During my time at Trinity Evangelical Divinity School, I became so disgusted with the program of studies that I just left the program. I took all the course work for the Masters Degree but did not take the final exam, because I was so turned off. Why? Because they were all living in denial. Then going to, but not attending, the University of Chicago Divinity School it was the same, because it was much more sophisticated in it's swindle.
Spectrum Of Theology
I have ready every kind of Theology out there, because I wanted to learn about God. However, it had all become clear that these Theologian are simply trying to put life into a corpse, because none of them know what they are talking about.
Often they are very lofty and abstract, because this is their smoke & mirrors to sell you their goods. These Theologians are doing all that they can to make Christianity "relevant" for today. How can you make a myth relevant today, tomorrow, or at anytime, because a myth is a vapor. Can you live your life based on a vapor?
Watercolor Painting
Above is my watercolor painting of the Mississippi River at Sunset, because the sky is yellow, and red. I did this when I was touring Natchez, Mississippi, because I fell in love with Natchez.
Prints & Scans
Prints & Scans Of This Watercolor #532Z ~ Order Here.
Alt Image Tag
The greatest swindle #532Z, Theological fraud, with a watercolor of the Mississippi River at sunset, offering prints & scans, by artist Stephen F. Condren of Condren Galleries.
Artist Stephen F. Condren Of Condren Galleries, A Fine Arts Gallery
Stephen F. Condren ~ Artist
Related Links
Zombie Of Easter Sunday #408Z