Description
Manhattan skyline #842A pen & ink watercolor cityscape painting, which is for sale here, at discount with prints by artist Stephen F. Condren, SAIC, of Condren Galleries, a Fine Arts Gallery, offering JPEG & PDF prints.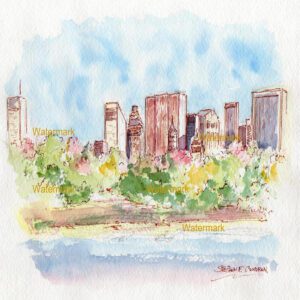 Key elements of this work of art are as follows:
Jacqueline Kennedy Onassis Reservoir
This spring time view of Central Park in Manhattan offers a lovely view of the trees and greenery that are but a few steps from the residents and visitors to this great city. In the background behind you can see the towering skyscrapers adding to this wonderful urban site. Manhattan Island is a borough of New York City.
Posts
Related Links
Atlanta skyline drawings, Atlanta pen & ink skyline, Atlanta skyline art, Philadelphia skyline charcoal drawing, Chicago skyline pen & ink, Los Angeles skyline watercolor, Manhattan skyline watercolors,