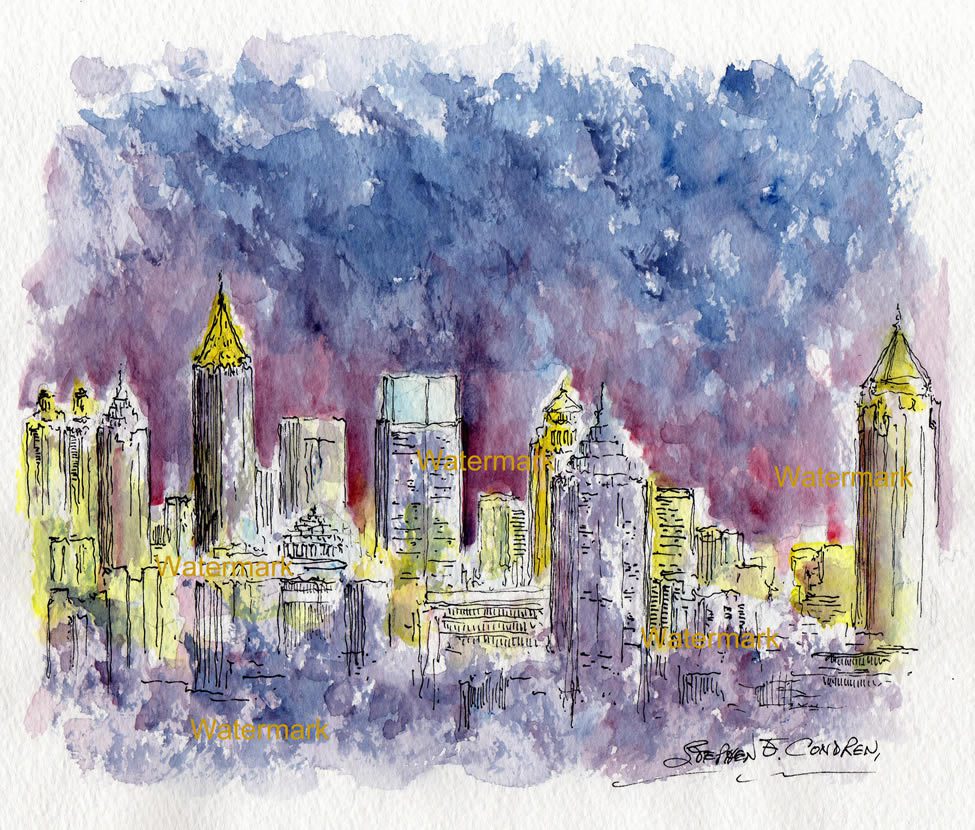 This is about Atlanta skyline #031Z night watercolor downtown., which is for sale at discount with prints by artist Stephen F. Condren, BFA-SAIC, of Condren Galleries, a Fine Arts Gallery, offering JPEG & PDF scans. This article is about my watercolor painting of downtown Atlanta, Georgia, at night.
Skyline Watercolor Of Downtown Key Points:
Take extra art supplies and food with a blanket.
Study the city lights and take in all their ranges of color.
Look at the buildings as figures rather than structures
A most difficult task indeed, doing a watercolor of the city at night, but it is done. The one thing that I had to watch out for at all time was the loss of detail in the watercolor washes. In other words, as I applied the washes of color to the paper I had to do it in such a way as to keep the lines clear and not muddied over. It is amazing how even a light clear stroke can cloud up a pen & ink line!
It is all about lights and street lights to be exact. With the son far gone you need the source of the street and traffic lights to illuminate your skyline by reflecting their shine onto and around the building. The light of course pours into the sky but this is very difficult to catch because in the process you can muddy up details of the structure to capture a vapor. It is sort of like stepping on dollars to pick up dimes. Just go with the flow of light as you see it and then put it down on paper, do not be concerned with be so exact and precise ~ this is what watercolors are all about!
Atlanta Skyline Watercolors Link: