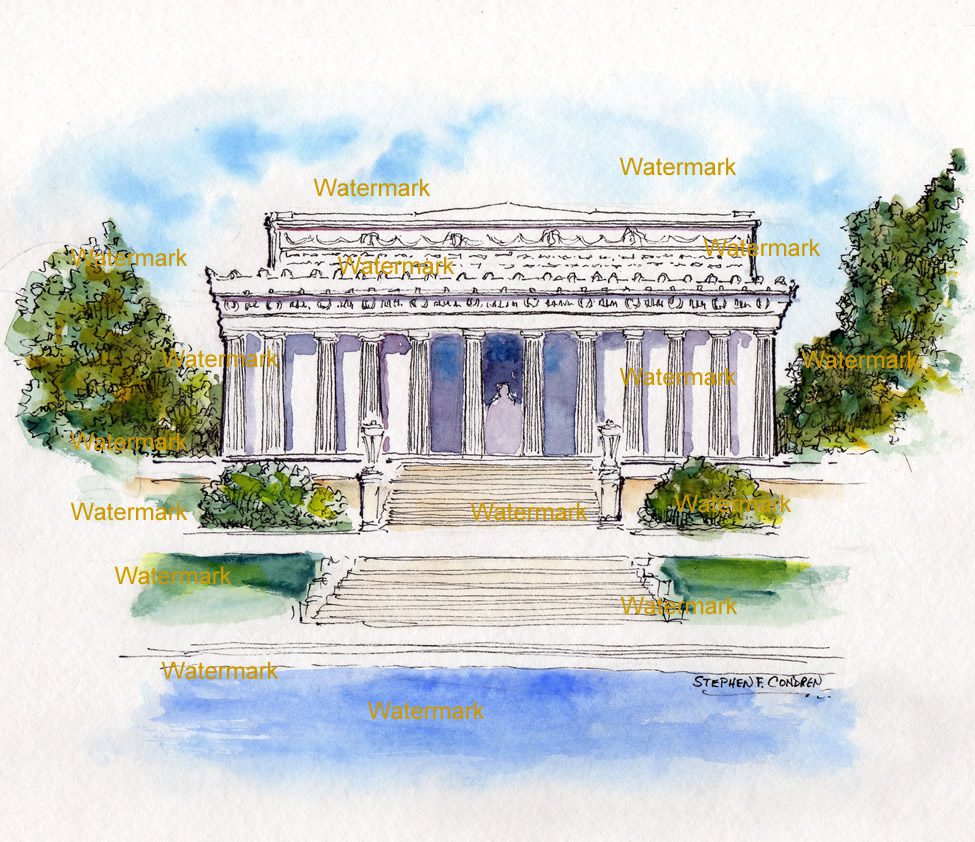 Lincoln Memorial #008Z. This is an article about the Lincoln Memorial that I have painted in watercolor for making prints.
Lincoln Memorial Watercolor Painting #676. Key elements of this work of art are as follows.
Check the lighting and make sure the day is not too overcast.
Distance your perspective so as to get a solid view of the subject.
Take account of people and other actives that may be an obstacle in creating the work of art.
In Washington D.C. at the far west end of the National Mall sits the Lincoln Memorial. This Classical Greek structure is one of the most beautiful in Washington D.C. and perhaps the country.
Architecture
What makes this building so wonderful is it's proportions, no other monument in Washington D.C. is so well designed and proportioned. When first looking at the structure you are taken by it's solid massive form that dominates the western end of the Washington Mall, however, as you study the structure you will see how "light" it appears despite the massive marble and stone that are the building materials for the memorial.
There are twelve fluted columns that run along the facade and rear of the building and eight along each side. The capitals of the columns are in the Doric style. The base of the pillars have no base to rest upon, which in keeping with Classical Architectural tradition (the bottom of the pillars at the Parthenon in Athens have no base). Like the Parthenon the end pillars on each side of the facade are set in slightly closer to the adjacent pillar so as to off-set the optical illusion of appearing to "bend" way from the structure when you look at it from a distance.
Architectural details are as follows.
At the entry of the memorial is an imposing marble staircase that leads right up to opening. There are no doors to be see from the outside of the structure. From a distance looking at the memorial you can see that the opening of the entry takes up the three center spaces between the center columns. Behind the entry are two more pillars that form a rotunda to the hall that contains the famous statue of President Lincoln by Daniel Chester French. This statue is positioned right in the middle of the room and recessed towards the back wall. The space is not as dark as it would appear from looking at it from the steps because there is a glass paneled roof above the statue that emits light into the building.
Stephen F. Condren ~ Artist
312-303-0207