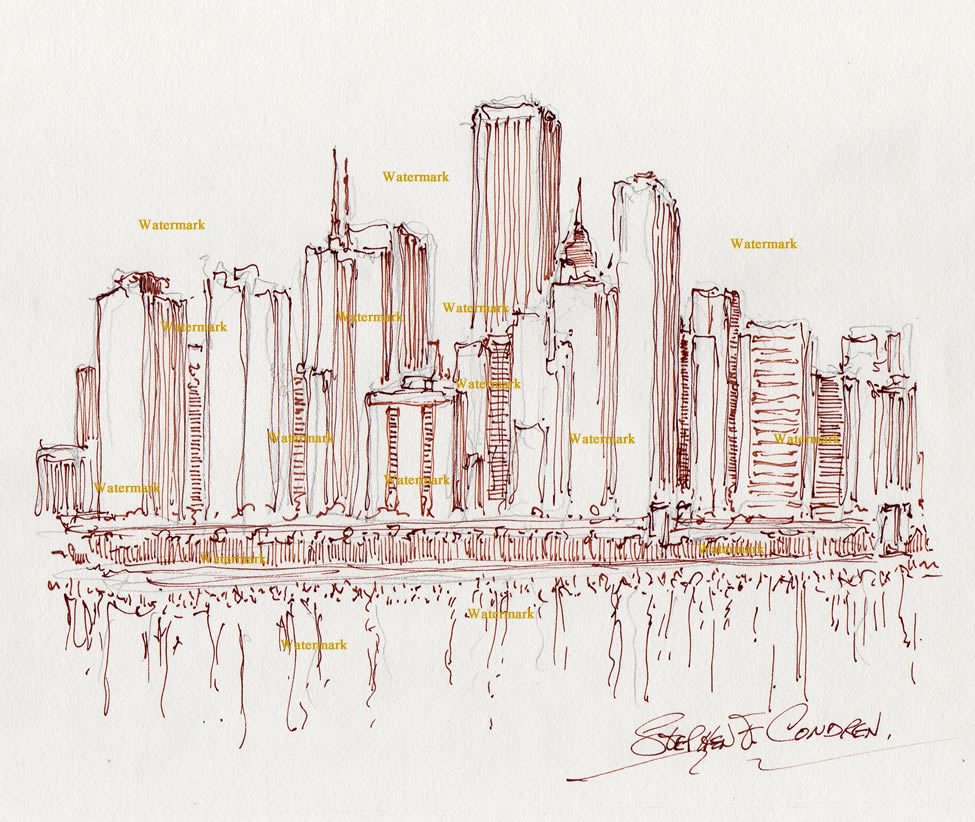 This article is about Chicago skyline #058Z Pen & Ink Drawing, which is for sale at discount with prints by artist Stephen F. Condren, BFA-SAIC, of Condren Galleries, a Fine Arts Gallery, offering JPEG & PDF scans. This is my brown pen & ink drawing of downtown Chicago, Illinois, in the area of east Randolph Street and east Wacker Drive.
Chicago Skyline Pen & Ink Drawing #871. Key elements in this drawing are as follows:
Skyscraper Formation.
Brown Pen & Ink.
Elevation.
Skyscraper Formation: The formation of skyscrapers culminates with the Aon Center (formerly the Standard Oil of Indiana Building). From the left you are looking at east Randolph Street and from the right you are looking from east Wacker Drive, both of which are parallel along a four block stretch giving us this peninsula of office buildings and residential complexes.
Brown Pen & Ink: The brown ink works wonderful for this type of drawing as it brings in the structural elements together and forms one sculptural piece.
Elevation: The elevation is approximately at the bottom third of the drawing and the tree lined waterfront gives way to the luminous imagery of the skyscrapers glimmering in the reflections upon the water.
Chicago Skyline Pen & Inks Link
Stephen F. Condren ~ Artist
312-303-0207
School of the Art Institute of Chicago ~ BFA