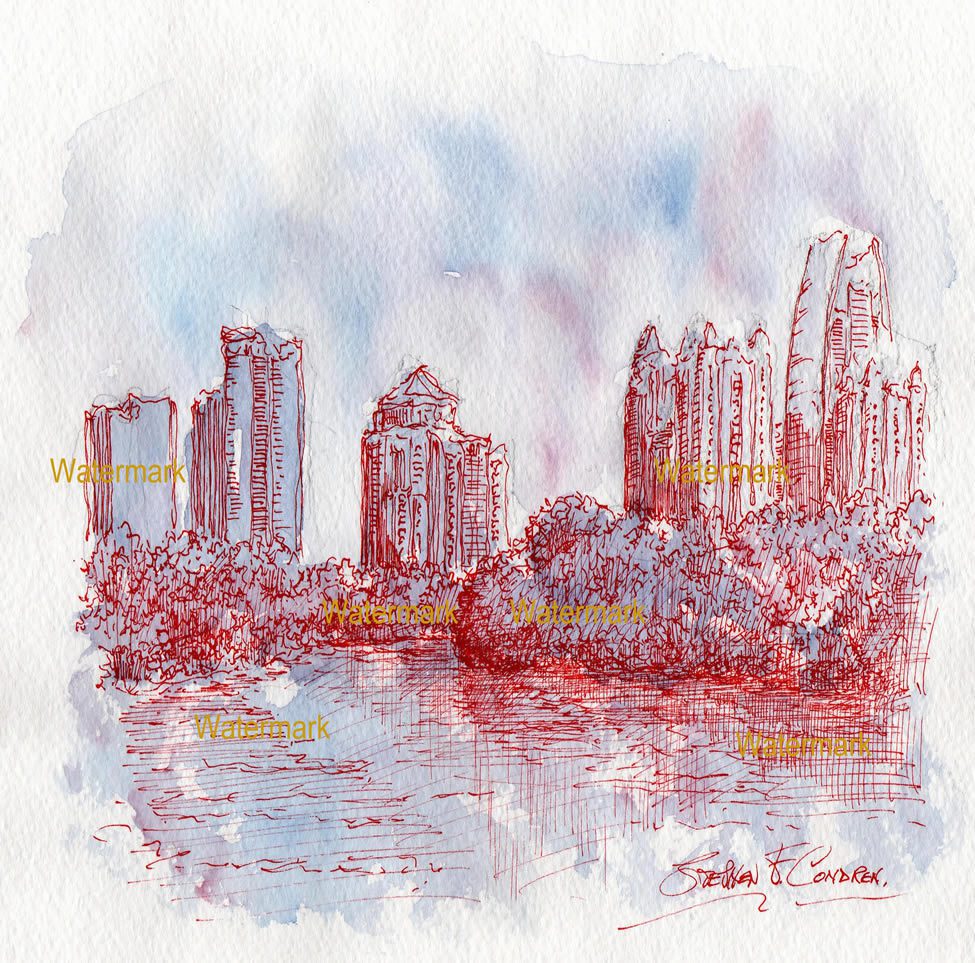 This article is about Atlanta skyline #029Z watercolor sunset Piedmont, which is for sale at discount with prints by artist Stephen F. Condren, BFA-SAIC, of Condren Galleries, a Fine Arts Gallery, offering JPEG & PDF scans. This article is about my red pen & ink night time watercolor of Piedmont Park, midtown Atlanta, Georgia.
Atlanta Watercolor Sunset Of Piedmont Park Key Points:
Delineation
Blue colors
Skyline
This watercolor was difficult to execute do to the fact that the water of Lake Clara Meed becomes the same tone as the evening sky. Thus, I had to work more with the ink to bring out the contour of the buildings in the background and the structure of the trees and bushes on the shore. I used extra ink via cross hatching along the shore's edge to delineate the land from the water.
The bottom third of the watercolor is devoted to the lagoon. I have made the blue of the water a bit darker than the sky since it has no luminosity from the city lights to ease the darkness.
If you look carefully you can see that directly behind the buildings the sky is lightest and then as you move your eyes upward the sky darkens into the clouds. This is all due to the city light in the background and from downtown Atlanta, which is not so far off.
Atlanta Skyline Watercolors Link:
Stephen F. Condren ~ Artist
312-303-0207