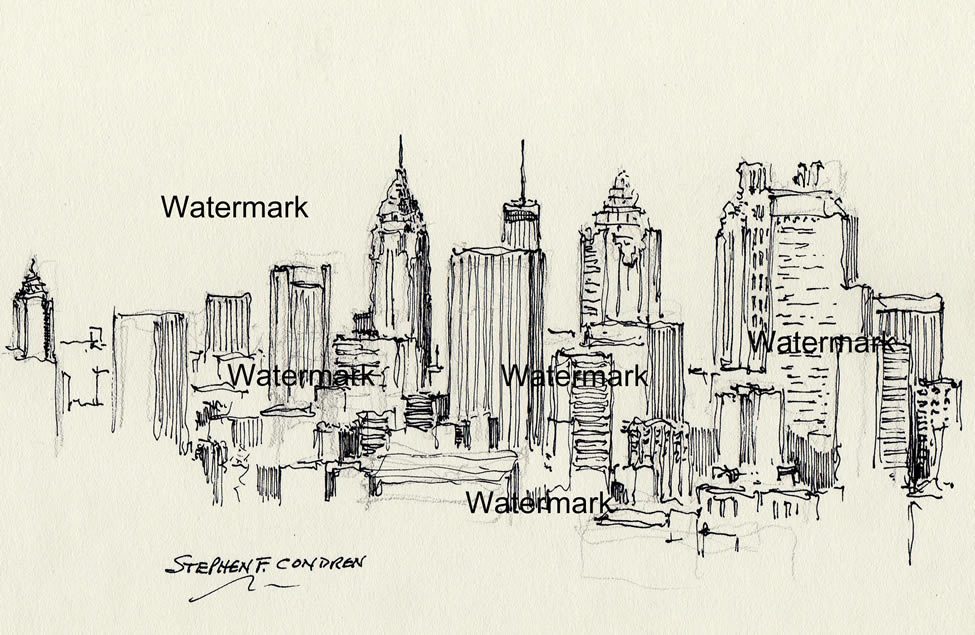 Atlanta skyline pen & ink drawing of downtown
Atlanta skyline pen & ink drawing of downtown by artist Stephen F. Condren. This article is about my pen & ink skyline drawing of downtown Atlanta, Georgia.
Skyline Pen & Ink Drawing Key Points:
Have all of your art supplies ready and on hand.
Choose a spot that has a clear view of the subject.
Study carefully the contour of the structures.
This handsome drawing of Atlanta is a solid rendering of this great city. I have chosen to focus on the delineation of the skyscrapers rather than do an overall cityscape. Thus, I have no clouds, people, traffic, or construction anywhere in the drawing, enabling me to focus on the structures. I have drawn them in a such a manner so as to suggest a friendly gather of colleague instead of a random cluster of office buildings.
You will notice as you look closely at the rendering that my line work is loose and fresh giving a warmth to the drawing. I clearly do not want to do any kind of architectural rendering or illustration, which smacks of commercial values, rather my focus is on the joy of the line!
Pen & Inks Of Atlanta Skyline Link:
Related Links
Atlanta skyline pen & ink drawing,
Stephen F. Condren ~ Artist
312-303-0207