Description
San Francisco skyline #932A pen & ink cityscape drawing is popular because of it's nighttime view, and the print is matted 11″x14″.
San Francisco skyline #932A pen & ink drawing at night, by artist Stephen Condren, BFA, SAIC, of Condren Galleries.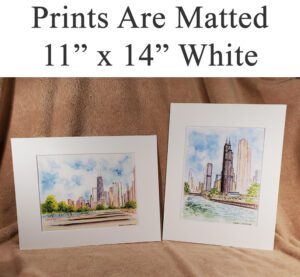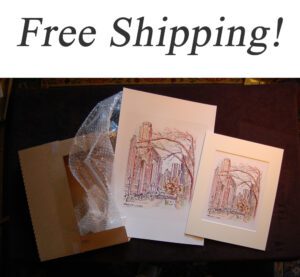 Key elements of this work of art are as follows:
Image
San Francisco skyline pen & ink drawing of downtown at night. This wonderful image of the San Francisco, California, skyline at night. Because this is done with one medium size pen point and lots of cross-hatching! The contour lines of the drawing make it easy to see the image of the buildings even though the scene is dark. Originally I wanted to keep the sky lighter but as I worked the drawing the strength of this image became stronger and stronger.
Transamerica Pyramid
I did the Transamerica Pyramid last because I was not sure how I wanted to treat it. Therefor, I let the tones of the other buildings and sky approach it I could see how to make her image. As you can see I have made her lighter than any other structure. Most importantly, to anchor the drawing and give strength to the composition for had I darkend the Transamerica Pyramid like the others the dark tones would become too dominant and thus bring the drawing to ruin.
Contour Lines
Over all the mood is silent as you look at the figures of these towering San Francisco skyscrapers. There is a bit of a ghostly image in the figures of the building that are accentuated by the deep shadows cast between the buildings. The contour lined blended in with the shade and shadows of the skyscrapers give the cityscape a life of it's own. In a way it is though the buildings are congregating together talking over the affairs of the day.