San Francisco Skyline Prints #440X
This is about San Francisco #440X skyline prints as cityscape reproductions, which are for sale here, at discount with prints by artist and United States Navy Veteran, Stephen F. Condren, BFA, SAIC, of Condren Galleries, a Fine Arts Gallery, offering JPEG & PDF prints.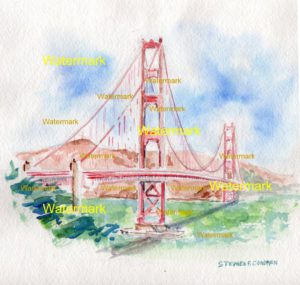 Color
The color of the city is vibrant and diverse and this is reflected in the watercolors of San Francisco's skyline. There are equally matched colors in the sky that are set off by the sunlight on the bay.
Delineation
The pen & inks offer a great way to look at San Francisco in fine detail. The fine dark lines of ink leave nothing to the imagination for you see everything.
The lines work with cross hatching to bring out the shades and shadows of the architecture.
Sunset
By far the most popular selling skyline prints of San Francisco are the sunset. The colors that glow from the sun flow with the clouds to make a spectacular kaleidoscope of color.
The sunset skyline prints are handsome and make for a wonderful gift idea.
Architecture
The architecture of San Francisco is famous the world over. Having rebuilt from the earthquake of 1906, San Francisco has proven to never give up and has moved forward with innovative architecture that resists earthquakes.
Landmarks
There are a host of landmark for Coit Tower to the Golden Gate Bridge.