San Francisco Skyline Art #437X
This is about San Francisco #437X skyline art as cityscape artwork, which are for sale here, at discount with prints by artist and United States Navy Veteran, Stephen F. Condren, BFA, SAIC, of Condren Galleries, a Fine Arts Gallery, offering JPEG & PDF prints.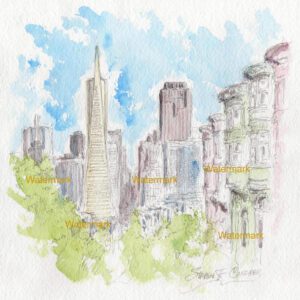 Delineation
A popular choice for skylines are the pen & ink drawings and prints. The fine clear lines of ink are very exact and bring out the smallest details in the architecture of the city.
Color
Watercolors of the San Francisco skyline are fresh and translucent. The use of pen & ink in conjunction with the watercolors brings both genres of art together.
Landmarks
San Francisco is a city with many famous landmarks and at the top of the list is the Golden Gate Bridge. Clearly the most famous bridge in the world it also rivals as the most beautiful as well.