Description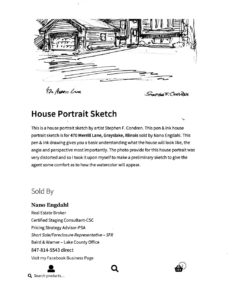 My posts are forwarded all over and deliver results years down the read!
Free Realtor advertising
My post are sent to clients and Realtors all over the Internet. No other form of advertising can do that for you! Further, there is no time frame like you have in any advertising program. You can get a call from one of my posts years down the road! My Website receives massive amounts of hits every day bringing in potential clients for Realtors. What makes advertising unique here it that it is imbedded in a cross-reference context. Thus, viewers from a wider range of subjects are exposed to what you have to offer. I have clients from all over the country that do business with me every day. They range from oil landscape paintings to watercolor skyline pen & ink drawings. Free Realtor advertising.
Strong Market
A strong heterogeneous market for people that need a Realtor and nothing is better than a trusted site like my own where I know all of my clients. I am a proven success and people trust in me and my work. I always come through on time with the quality that is expected. Condren Galleries is a trusted site! Now put that trust to work for you and let me post your next closing with a House Portrait.
WordPress
WordPress and Yoast (SEO for WordPress) keep track of each page that is visited and how many times. The traffic on my Realtor House Portrait posts equals that of all my skyline pages put together!
After I complete a House Portrait I post the image of it on my Website for all the world to see. My Website gets massive amounts of hits daily. Included with the post is your contact information. Thus, free advertising comes with every House Portrait order!
Social Media & Referrals
You will get free Internet and Google exposure with my posting of your house portrait on-line. Your name, contact information, and sold listing are posted on the Internet. Google, Facebook, Twitter, and Social Media.
Benefits:
Google ranking
On-line referrals
Internet exposure
Links to your Website
Repeat business
It's free!
When I post the house portrait I also include your sale and contact information. This includes the hyper-link to your Website for instant response! These are free benefits offered at no cost to you by Architectural Illustrator & Artist Stephen F. Condren, BFA-SAIC.
House portraits unlike any other closing or settlement gift are the gift that keeps on giving! The moment your clients arrive home with your gift of a house portrait they will hand it on the wall. This work of art will hang in their home permanently on display to all their friends and family giving you endless referrals.
Related Links
House Portraits, Realtor closing gifts, Watercolor house portrait, House portrait, Watercolor house portrait