Description
Chicago Skyline Pen & Ink
Chicago skyline #745A pen & ink drawing, which is a cityscape stylus sketch, is for sale at discount with prints by artist Stephen F. Condren, BFA-SAIC, of Condren Galleries, a Fine Arts Gallery, offering JPEG & PDF scans. The view is overlooking Lincoln Park from the north looking south, to Chicago's near north side and the loop further behind. Because Chicago skyline #745A is great, it's prints are great! Most importantly, pen & inks work with high contrast images. For that reason, using hatching is good for bring out both the details and the tones. Because this drawing is using hatching, it has excellent contrast shadowing.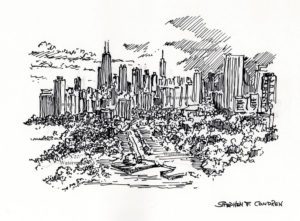 Care has been taken to give attention to detail without sacrificing composition and design. Rather than draw every leaf on every tree I use the fine lines to convey the images of leaves. The need for a mild amount of hatching is required to give shade and shadow to the landscape.
Lelination
A very important feature of the rendering is the use of lines to create the skyscrapers that form the skyline. Since my task is to convey to you an image of the skyline I want to do this so that it has meaning. To draw so many lines to capture the image of buildings is tedious. It is best to grasp and harness the image and in a kind of "short hand" jot it down in ink. For example, the delineation of Trump Tower is loos and free not sowing all the cross-hatched craftsmanship.
I am very please with the execution of the clouds in the drawing. There are two formations: stratus nimbus and cumulus. The stratus nimbus clouds nicely give texture to the building from the center to the right. Whereas the cumulus clouds over Lake Michigan give open are to the rendering.
This pen & ink drawing is taken from the Lincoln Park Zoo looking south. In the foreground are the lawns and landscaping of Lincoln Park. Just behind the park you can see the towering skyline of the near north side. This section of Chicago has some of the tallest buildings in the country. The Chicago Loop has the greatest cluster of tall building including Willis Tower and Trump Tower.
Key features:
Posts
Related Links
Atlanta Skyline Drawings, Atlanta pen & ink skyline, Atlanta skyline art, Philadelphia skyline charcoal drawing, Chicago skyline pen & ink,