Description
Chicago Downtown Skyline Pen & Ink
Chicago skyline #746A pen & ink drawing at night, which is a cityscape stylus sketch at twilight, is for sale at discount with prints by artist Stephen F. Condren, BFA-SAIC, of Condren Galleries, a Fine Arts Gallery, offering JPEG & PDF scans. This is a panoramic view of the city of Chicago taken from the south east, above Adler Planetarium. The darkest part of the drawing is in Lake Michigan, while the lightest is in the cluster of skyscrapers that form the Chicago loop. In the center of the rendering is Burnham Harbor with the barrier reef surrounding it. Because Chicago skyline #746A is great, it's prints are great!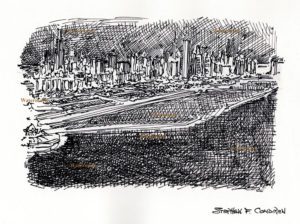 Key features:
Night Light
Delineation
Line
Clearly the focus of the drawing is on the night. I have drawn the sky with cross-hatched ink lines in a manner that filters in light. My intent was for the sky to be luminous and yet hold a place for the evening pitch.
I have the middle of the drawing done in middle tones as the center of the work of art. The bottom of the drawing, where Lake Michigan is the anchor, gives support to the rendering with it's very dark tones done with intense cross-hatching.
The architectural detailing of the buildings is a joy to behold. You can easily see the more famous skyscrapers jutting out from the skyline. However, I really take pleasure in accurately detailing the smaller less known buildings. When I did the detailing of the central core of the drawing I made sure not to sacrifice quality of design for monotonous detailing. Nothing is easier than mindlessly coping details of images that are clearly there. What is not easy is to grasp the concept of the image at hand and put it down in terms of pen & ink so that it makes sense to the viewer.
Because the pen & ink scene of the Chicago skyline is done at night it is dark. The view is taken from the southeast near the Adler Planetarium. In the center of the drawing you can clearly see Burnham Harbor named after the famed Chicago architect Daniel Hudson Burnham.
Posts
Related Links
Atlanta Skyline Drawings, Atlanta pen & ink skyline, Atlanta skyline art, Philadelphia skyline charcoal drawing, Chicago skyline pen & ink,