Description
San Francisco skyline #916A pen & ink cityscape drawing is popular because of it's view of the harbor, and the print is matted 11″x14″.
San Francisco skyline #916A pen & ink city scene drawing, which is for sale here.  Discount on prints by artist Stephen F. Condren, BFA, SAIC, of Condren Galleries, a Fine Arts Gallery, offering JPEG & PDF prints.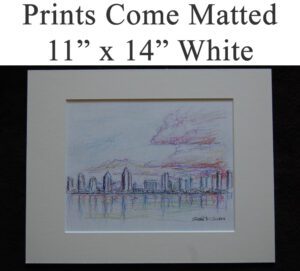 Key elements of this work of art are as follows:
San Francisco Bay
San Francisco skyline pen & ink drawing overlooking the bay. This view of the San Francisco, California, from the San Francisco Bay, shows a fine silhouette of the skyscrapers with the image of the Bay Bridge and a sailboat passing by. All of the drawing made use of a fine point pen whereas in the shadowing of the sail on the boat I used an extra fine point so as to capture the subtle gradation of the shadowing on the curve of the sail. Also, since the sailboat is close to the viewer I put more detail to it, which is natural.
San Francisco – Oakland Bay Bridge
Running horizontally across the drawing is the famous San Francisco – Oakland Bay Ridge. This is a series of bridges and is one of the longest in the United States.