Description
Dallas skyline #2861A pen & ink cityscape drawing, which is for sale here, at discount with prints by artist Stephen F. Condren, SAIC, of Condren Galleries, a Fine Arts Gallery, offering JPEG & PDF prints.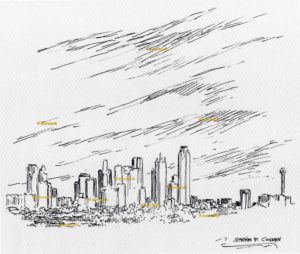 Key elements of this work of art are as follows:
Dallas skyline pen & ink drawing of downtown with skyscrapers. This drawing of the Dallas, Texas, skyline is from a far distance from the city and offers a complete perspective of the entire downtown district. The beauty of proportion in the skyscrapers makes this a most wonderful image of one our country's great cities.
Posts
Related Links
Atlanta Skyline Drawings, Atlanta pen & ink skyline, Atlanta skyline art, Philadelphia skyline charcoal drawing, Chicago skyline pen & ink,