Description
Dallas skyline #2860A pen & ink cityscape drawing, which is for sale here, at discount with prints by artist Stephen F. Condren, SAIC, of Condren Galleries, a Fine Arts Gallery, offering JPEG & PDF prints.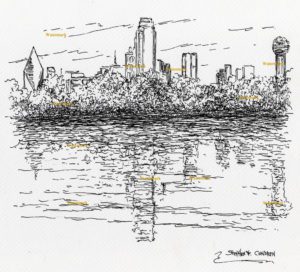 Key elements of this work of art are as follows:
Trinity River
Pen & ink drawing of Dallas skyline as seen from the Trinity River. This drawing of the Dallas, Texas, skyline is taken from the Trinity River where the refection of the skyscrapers can be seen in the flowing currents of the river. This scene so wonderfully conveys the beauty of Dallas, one of my favorite cities, that is always a pleasure to visit and create art of.
Some of the Tallest buildings in Texas as well the United States are located here in Dallas, Texas. To mention a few there are: Bank of America Plaza, Renaissance Tower, Comerica Bank Tower, and JP Morgan Chase Tower.
Posts
Related Links
Atlanta Skyline Drawings, Atlanta pen & ink skyline, Atlanta skyline art, Philadelphia skyline charcoal drawing, Chicago skyline pen & ink,