Description
Dallas skyline #2858A pen & ink cityscape drawing, which is for sale here, at discount with prints by artist Stephen F. Condren, SAIC, of Condren Galleries, a Fine Arts Gallery, offering JPEG & PDF prints.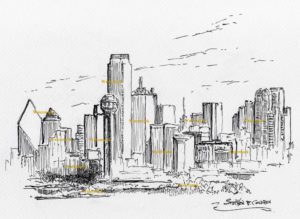 Key elements of this work of art are as follows:
Dallas skyline pen & ink drawing of downtown with Reunion Tower by skyline artist Stephen F. Condren, BFA-SAIC. This view of downtown Dallas, Texas, is done from Fair Park and gives a nice view of the city. Truly one of the great cities of America, Dallas boast great wealth in the oil industry and many others as well as her population continues to grow and their offerings expand. Always when I am in Dallas I have a great time and hate leaving her for there is something in the air in Dallas.
Posts
Related Links
Atlanta Skyline Drawings, Atlanta pen & ink skyline, Atlanta skyline art, Philadelphia skyline charcoal drawing, Chicago skyline pen & ink,