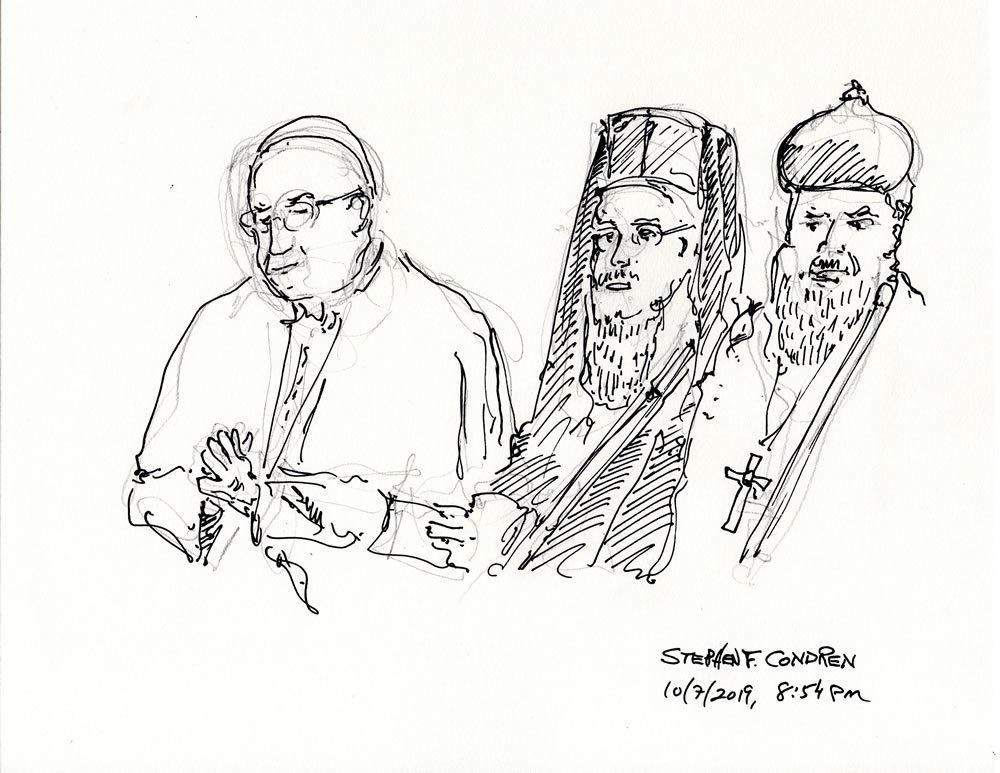 Orthodox Patriarchs with Pope Francis #436Z, with pen & ink, and pencil portraits, by artist Stephen F. Condren, SAIC, BFA, of Condren Galleries.
Posted on Google+, Facebook, Twitter, Linked-in, and Tumblr.
Pope Frances With Orthodox Patriarchs
Prelates
In 2018, Pope Francis met with Patriarch Ignatius Ephram II, of the Syriac Orthodox Church, and Ecumenical Patriarch of Constantinople, Bartolomew I. The three prelates met to work out Theological differences between the Churches, because the Churches wanted unity. In 1054 AD, the East and the West Churches split, because of Theological differences. The East and the West Churches did not communicate, because they were excommunicated by the Pope.
There are more Church meetings to be scheduled with the Pope, because he is seeking Christian unity. The Orthodox Prelates were pleased to attend the meeting, because they wanted improved Church relations. Recently here has been a lot of communication between the East and West Churches, because they wanted unity. The Internet has made communications between the East and West Church better, because more people can learn about the Church.
Pen & Ink Drawing Of Pope Francis #436Z With Orthodox Patriarchs
Above is my pen & ink drawing of the Pope with the Orthodox Prelates. The Pope has made an effort to reach out to the Patriarch of the Russian Orthodox Church, because he wants to open channels of communication. Next year Pope Francis will meet other Orthodox Prelates to set up meetings on Church Theology.
Alt Image Tag
Pope Francis #436Z pen & ink drawing by artist Stephen F. Condren.
Related Links
The Essence Of Faith #435Z