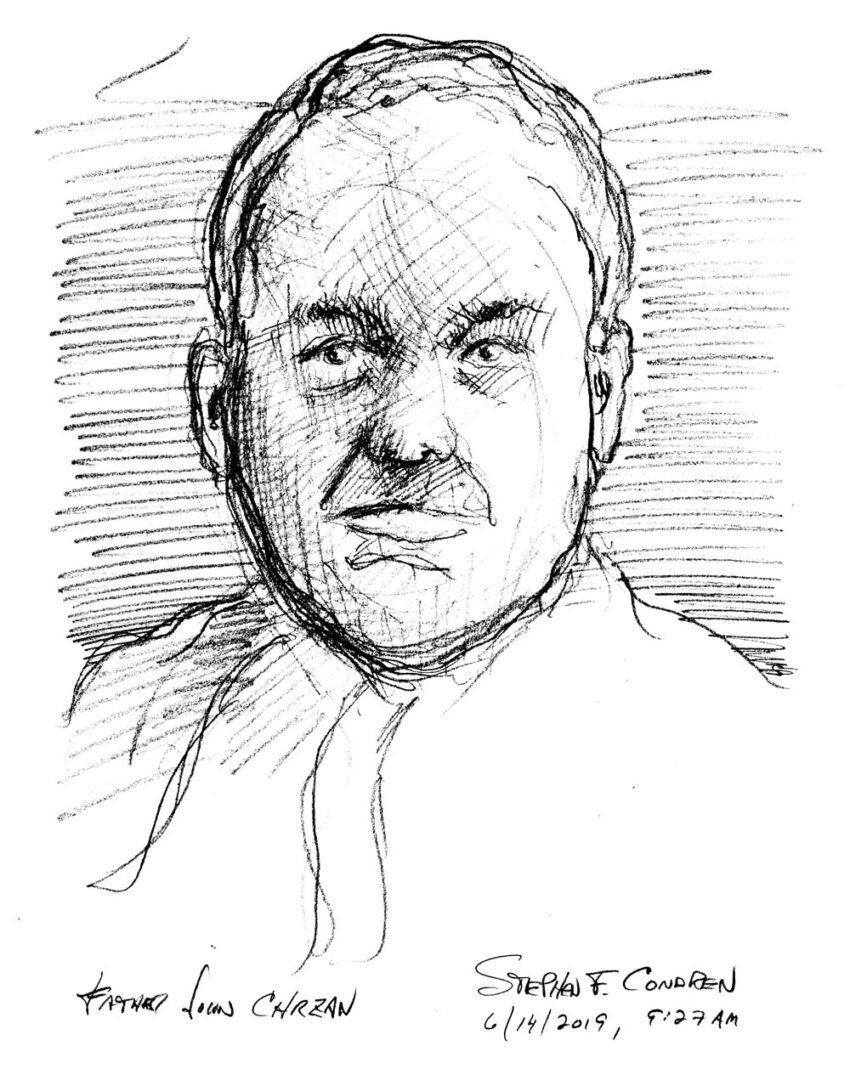 This article is about Father John Chrzan #310Z, and his pencil portrait, written and drawing by artist and United States Navy Veteran, Stephen F. Condren, BFA-SAIC, of Condren Galleries, a Fine Arts Gallery ~ the rendering is done first as a pencil drawing, which comes with JPEG & PDF scans for making prints, note cards, and stationery. Congratulations Father John!
Posted on Google+, Facebook, Twitter, Linked-in, and Tumblr.
Father John Chrzan #310Z
Pastor, St. Gilbert Parish, Grayslake, Illinois
Devout Christian
Man of faith
Pencil Rendering For Father John Chrzan
The pencil drawing was done as a gift for Father John's "21st" Birthday. The birthday celebration was posted on the doors of the chapel so we had time to plan the event. It was my intention to draw Father John's portrait in the same manner as that of Father Christian Shiu, which was a live sitting during the birthday party.
When I came to the 8:00 AM mass on Friday morning, while I was sitting during mass, I realized that I had left my drawing satchel at home. So I decided to leave the church straight from Holy Communion and drove back home, got the satchel, and headed back to the church in time for the party.
When I got back to the church, everyone was in the multi-purpose room below the Chapel, which we use for Knights of Columbus. Everyone was there from mass and we had cake and ice-cream with other treats. After the photos and the blessing I sat down with father and commenced to draw him. Because Father John is a good model, and he should consider doing this on the side! All humor set aside, Father John was well mannered and we had a polite conversation, where I was telling him about my home parish of St. Philip Neri in South Shore, and Mendel Catholic High School.
All in all the portrait took about 10 minutes to draw. Most importantly, we all love Father John and we all wish you Happy Birthday!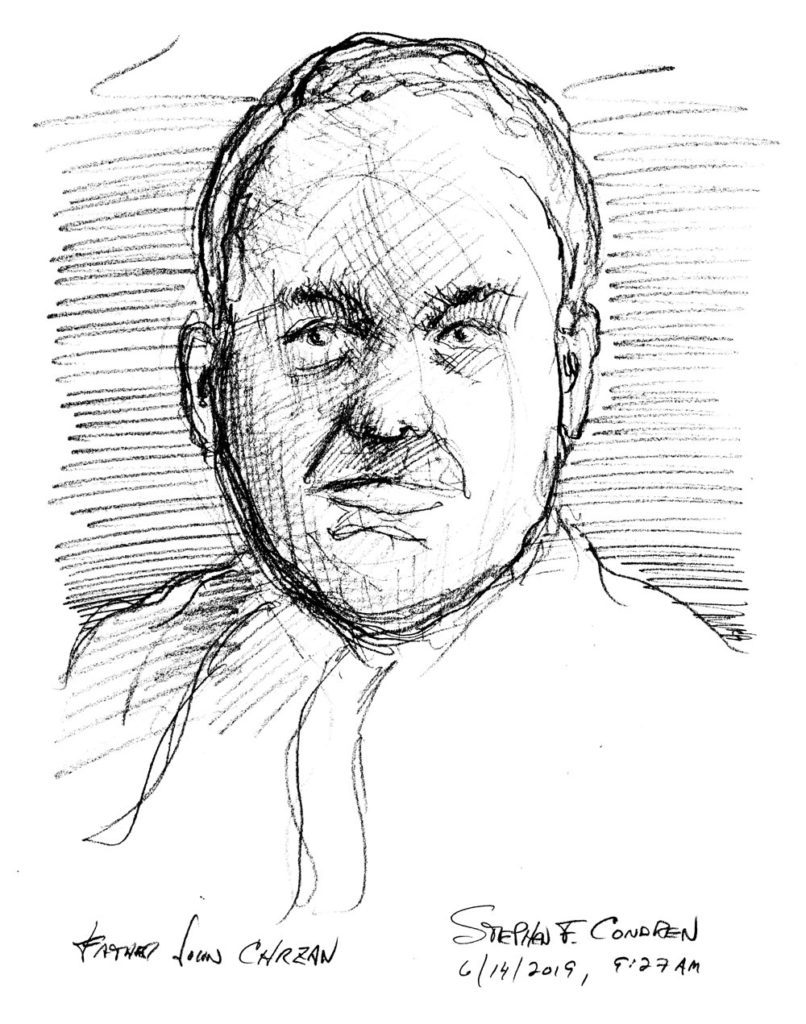 Scans
Scans of Father John Chrzan #310Z are available in JPEG or PDF formats for making prints, note cards, or posters.

Condren Galleries Ltd. For Father John Chrzan #310Z
Father John Chrzan #310Z As Fine Art
Condren Galleries is pleased to have been to participate in the execution of Father Chrzan #310Z.
Stephen F. Condren For Father Chrzan
Father John Chrzan #310Z As Figure Drawing
As an artist I have made Father John Chrzan drawing #310Z a staple of my figure drawing art.
Alt Image Tag
Father John Chrzan #310Z with prints by artist Stephen F. Condren at Condren Galleries.
Related Links
Case For Saint Stephen #298Z