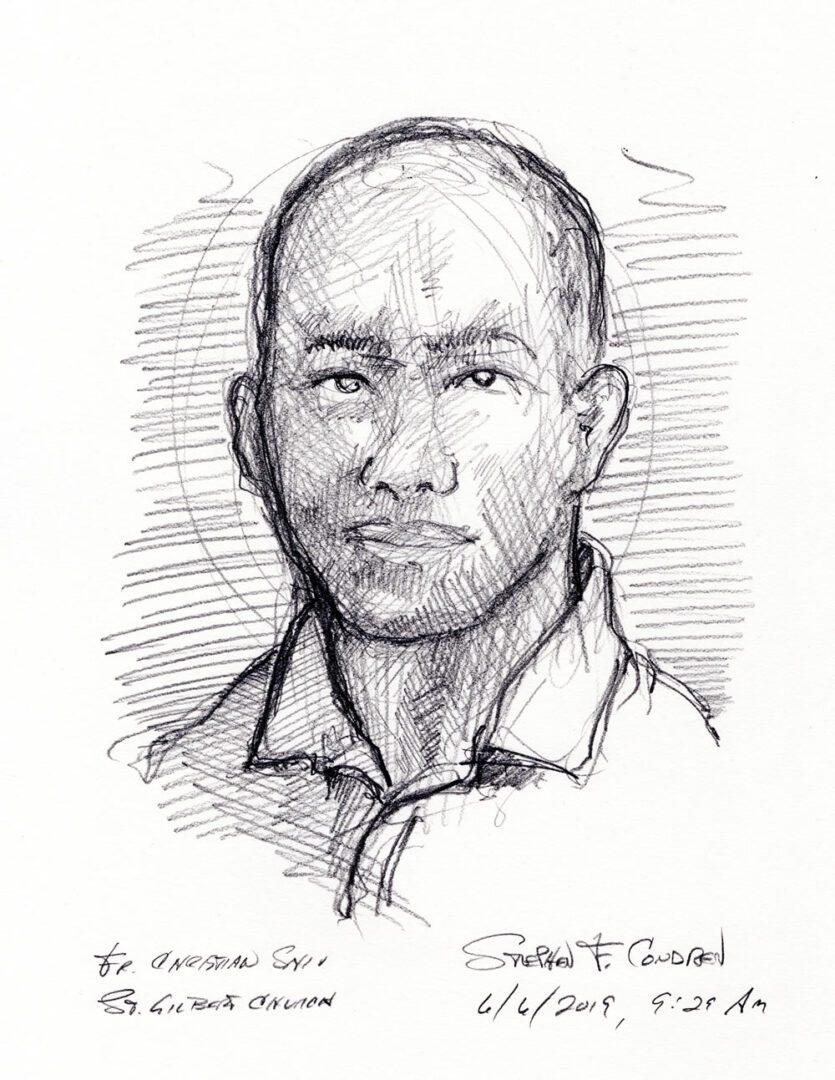 Father Christian Shiu #309Z, Catholic Priest pencil portrait of him on his birthday, drawn and written by artist and United States Navy Veteran, Stephen F. Condren, BFA-SAIC, of Condren Galleries, a Fine Arts Gallery ~ the rendering is done first as a pencil drawing, which comes with JPEG & PDF scans for making prints, note cards, and stationery. Congratulations and Happy Birthday Father Christian Shiu!
Posted on Google+, Facebook, Twitter, Linked-in, and Tumblr.
Father Christian Shiu #309Z
St. Gilbert Parish, Grayslake, Illinois
Happy Birthday!
From all of us at St. Gilbert Parish in Grayslake.
Pencil Rendering For Father Christian Shiu #309Z
The pencil drawing is of Father Christian Shiu, Associate Pastor of St. Gilbert Parish, in Grayslake, Illinois. Today Father Shiu celebrated mass in the Chapel at 8:00 AM, and it was well attended. After the service all of us at mass went down to the chapel hall to celebrate Father Shiu's birthday!
It was a most festive event that everyone helped make a success. We all knew about this event from last week when it posted at the church on the door. So each person brought something for the party in the way of cake and treats. Kate brought a beautiful cake from Jewel. I will be sure to call on her when it comes time for my birthday!
Associate Pastor
Last year Father Shiu was assigned to our parish by the Archdiocese of Chicago. He came as a transition for Father Jose, that took on the Pastoring of St. Timothy Parish in Chicago. Below is a picture of us with father Jose as his farewell party.
With the arrival of Father Shiu a whole new era for St. Gilbert has commenced. The first thing that I can tell you is that he knows everyone at church by their name! Father Shiu is very intelligent, and his great learning is complimented by his warmth of character and love of Christ and people. To know Father Shiu is to love him, and all of us here can testify to that.
Theology
I never give up on wrestling with Father Shiu over Theological concepts and points. When I talk with him he always listens (after addressing me by my name) and then hears me out. He is great to challenge and a joy to talk with on subjects, ranging from the Historical Critical Method of the Bible, to emanant Theologians such as Rudolph Bultmann, Paul Tillich, and Albert Schweitzer, and Theological issues such as Dipolar Theism and Process Theology. I always look forward to sharing with him! Father Shiu is Theologically sound, and an outstanding Roman Catholic Priest.
The Mass
Often I attend the 8:00 AM mass, and I am always pleased to see Father Shiu as the Celebrant. Father Shiu possesses a rare gift in his manner in which he renders the mass. There is something very sacred about his deportment and gestures, not to mention his wonderful singing voice! The Archdiocese had better watch out, because I am afraid that they may lose Father Shiu to a major entertainment network with his outstanding musical skills! It is hard to turn down those millions.
Portrait
Shortly after the blessing, I had the honor to draw the portrait of Father Shiu. I had brought with me by art supplies and kindly asked him to pose for me, and he accepted. Father Shiu is an excellent model and did exactly as I had requested of him, that being not to look down at the drawing as I sketched.
I had my 6B lead pencils with sketch board and other art supplies. Then, off to work! As I drew him we had a delightful conversation about art and the rendering of figures. I expressed to him that it is more difficult to draw children and young people because they have no lines on their faces. We also talked about Chinatown in Chicago, where he is from. Our family has been going there for decades, and we most often ate at Won Kow, managed by David Ho. We also talked about foreign languages, as Father Shiu speaks Spanish. I bantered around with him in Spanish and German with great delight as I drew.
Photos
As I drew Father Shiu, others gathered around to watch. I had told father that I was just going to draw a quick barroom sketch rather than a polished studio rendering, and to please relax and enjoy the process. Cathy came over and took many photos of me drawing Father Shiu, and even took the drawing and placed it on the drawing board and did a nice flat screen image shot of it. As I returned home I took the drawing of Father Shiu and made of a scan of it, which you can see here.
Video
All in all it was a wonderful morning, and we all delighted to share in the joy of celebrating Father Christian Shiu's Birthday.
Happy Birthday Father Christian Shiu!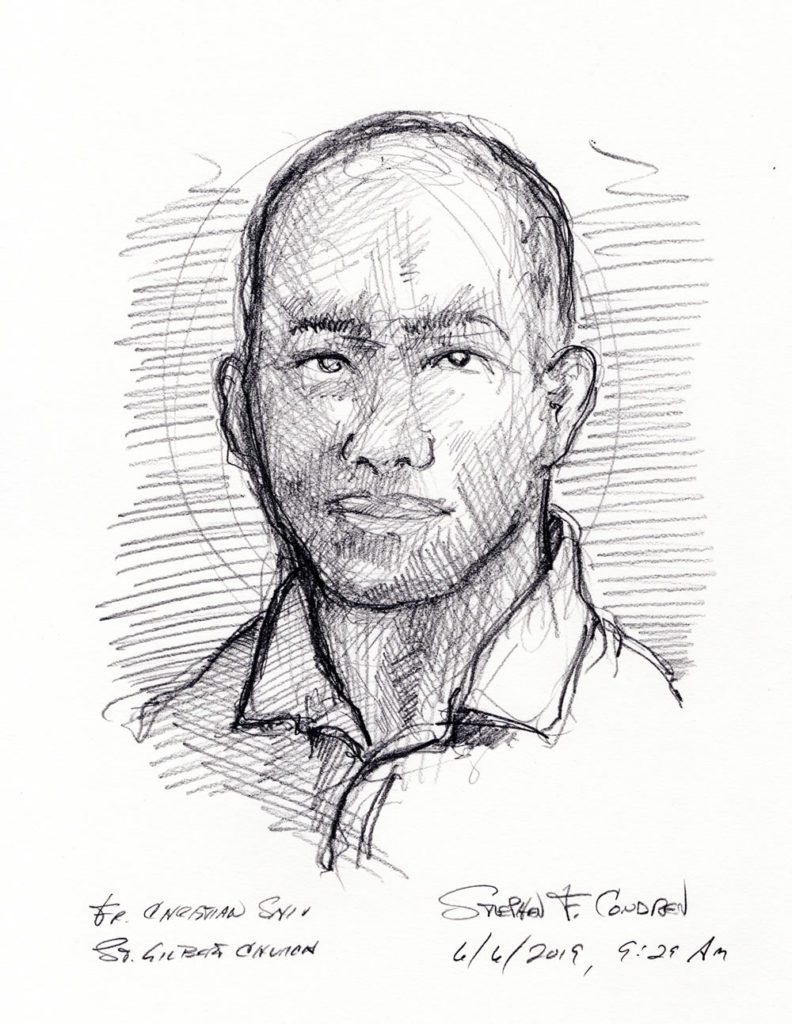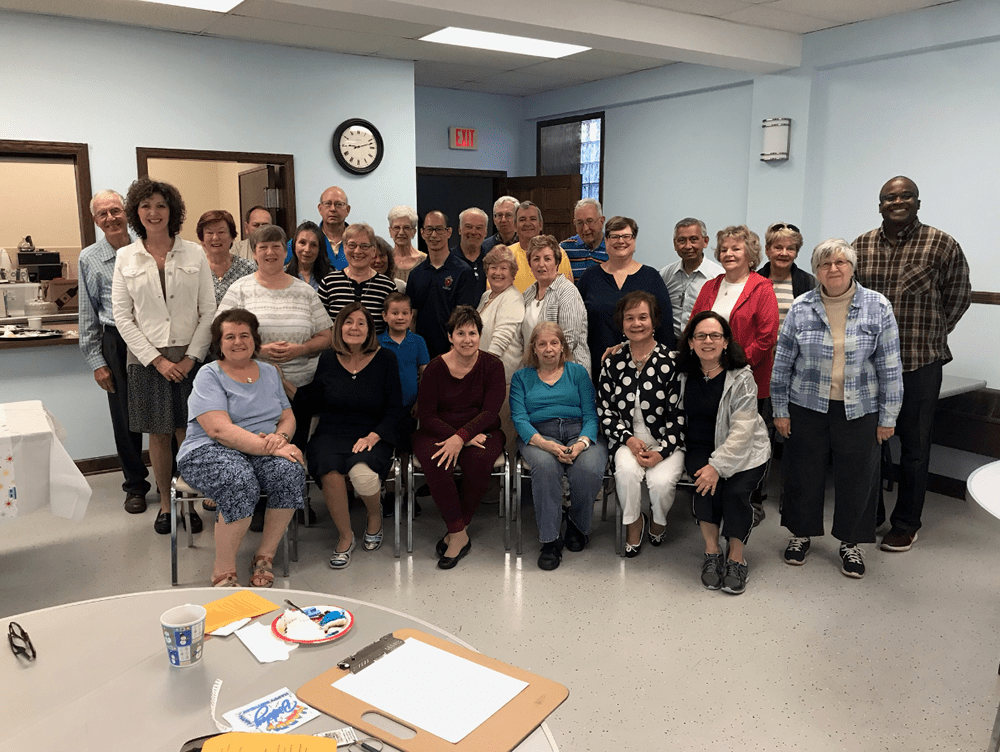 Scans
Scans of Father Christian Shiu #309Z are available in JPEG or PDF formats for making prints, note cards, or posters.

Condren Galleries Ltd. For Father Christian Shiu #309Z
Father Christian Shiu #309Z As Fine Art
Condren Galleries is pleased to have been to participate in the execution of Father Christian Shiu #309Z.
Stephen F. Condren For Father Christian Shiu #309Z
Father Christian Shiu #309Z As Figure Drawing
As an artist I have made Father Christian Shiu #309Z a staple of my figure drawing art.
Alt Image Tag
Father Christian Shiu #309Z, Catholic priest Pencil drawing by artist Stephen F. Condren at Condren Galleries.
Related Links