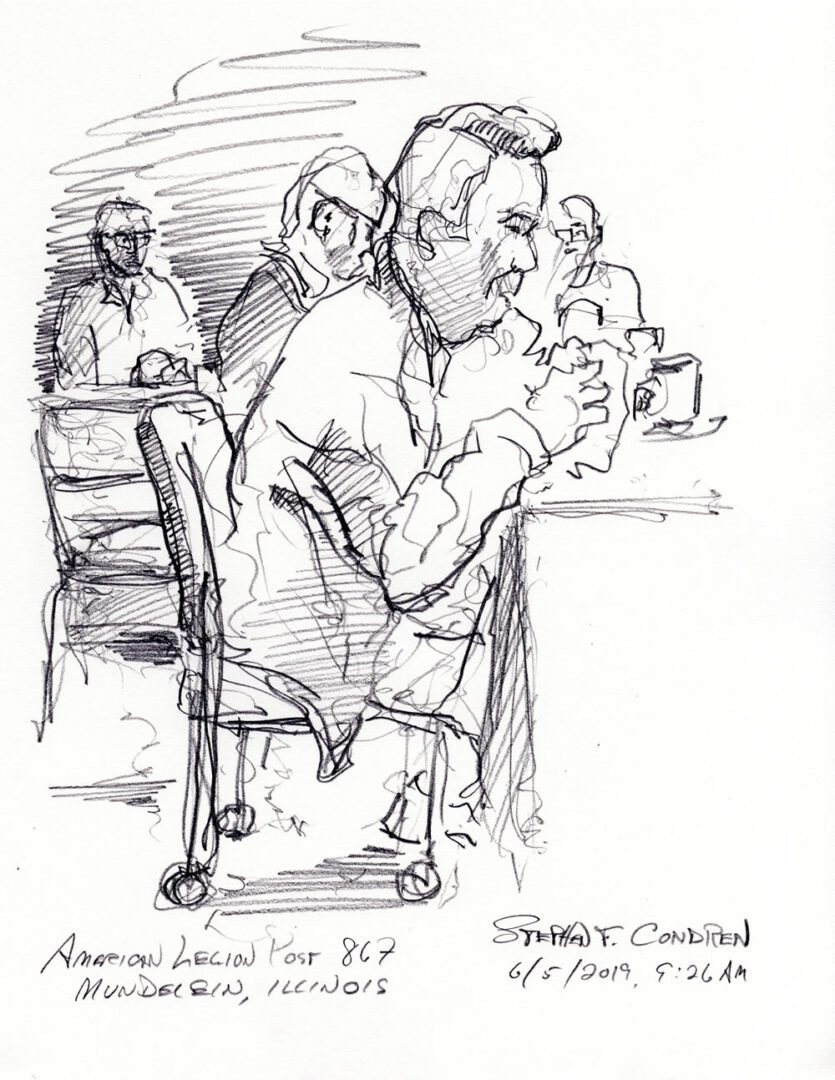 This article is about American Legion Drawing #308Z, of fellow Legionnaires, and written by artist and United States Navy Veteran, Stephen F. Condren, BFA-SAIC, of Condren Galleries, a Fine Arts Gallery ~ the rendering is done first as a pencil drawing and then a pen & ink, which comes with JPEG & PDF scans for making prints, note cards, and stationery. Congratulations Legionnaires!
Posted on Google+, Facebook, Twitter, Linked-in, and Tumblr.
American Legion Post #867
Mundelein, Illinois
Pencil Rendering For American Legion Drawing #308Z
The pencil drawing of my fellow Legionnaires was done at our regular Wednesday morning coffee. Because I was tired this morning as I only had 6 hours of sleep, but I was determined to do at least one drawing! Most importantly, I wanted to capture this moment in time.
My focus is on the legionnaire in the center of the drawing, because his actions are good. He is talking with a friend across the table and out of view in the picture plane. As you can see his mouth is open for the dialogue of the conversation. Because these drawing are studies I am short and to the point. I do not like to take more than 10 minutes per drawing.
The image of the figure in the background and in his face has been ceased at the edge of the main figure, for I did not want to compromise the integrity of his profile. Because I made use of a 6B lead pencil, and I keep a small cluster of them at hand so that I can rotate the pencils as the point dims. Most importantly, the use of hatching and crosshatching increases the quality of the drawing by bringing out the shades and shadows of the images in the room.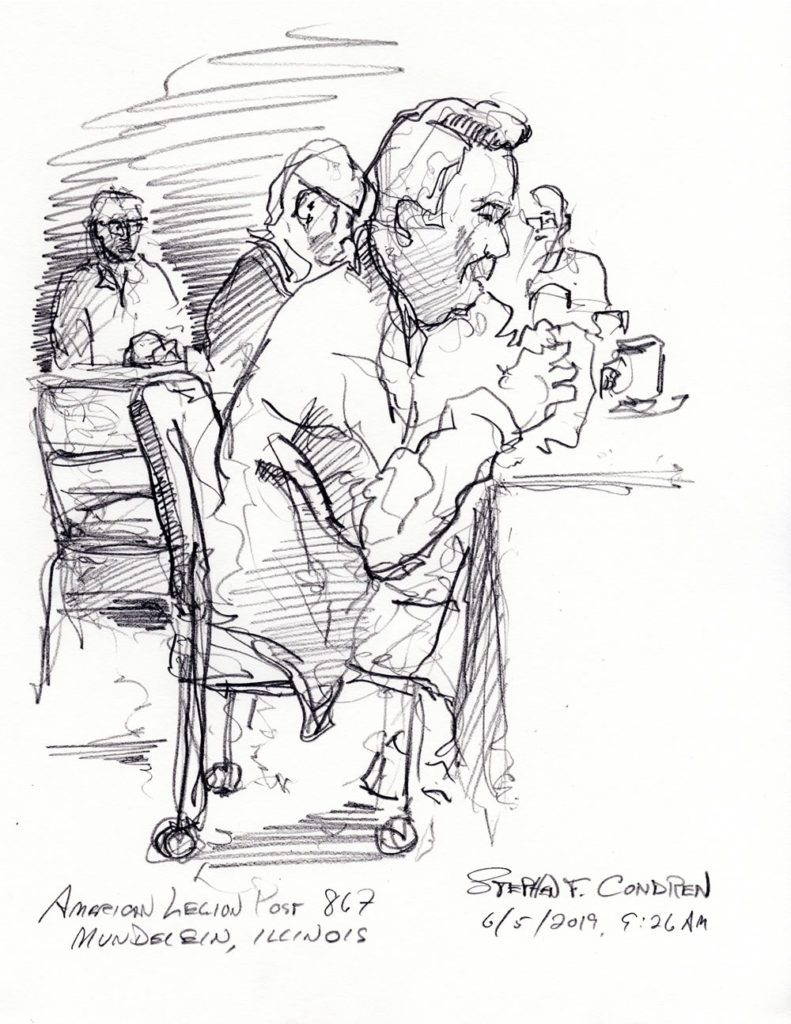 Scans
Scans of house portrait #308Z are available in JPEG or PDF formats for making prints, note cards, or posters.

Condren Galleries Ltd. For American Legion Drawing #308Z
American Legion Drawing As Fine Art
Condren Galleries is pleased to have been to participate in the execution of American Legion Drawing #308Z.
Stephen F. Condren For The American Legion
American Legion Drawing #308Z As Figure Drawing.
As an artist I have made American Legion drawing #308Z a staple of live action drawing, because it keeps my skills keen.
Alt Image Tag
American Legion Drawing #308Z with prints by artist Stephen F. Condren at Condren Galleries.
Related Links
American Legion Drawing #305Z