Description
Mt Carmel #143A pencil drawing, which is a stylus sketch of a Catholic Church, is for sale at discount with prints by artist Stephen F. Condren, BFA-SAIC, of Condren Galleries, a Fine Arts Gallery, offering JPEG & PDF scans. The full name of the parish church is Our Lady of Mt Carmel, which is located on Belmont Avenue, in Lakeview, Chicago. This is a live free-hand drawing done by me while sitting on a stool in front of the Elementary School of the parish.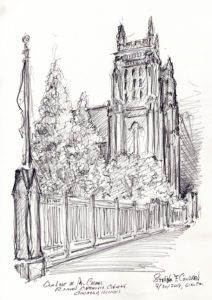 Our Lady of Mt Carmel Parish
This pen & ink drawing is of the church that my parents were married in and thus I have a very personal attachment to this beautiful neo-Gothic sanctuary. The church is part of a parish that includes an elementary school with grades from K-8. However, there are many programs that have outreach resources for children.
However, this parish is in Lakeview and thus it also has an outreach program for the Gay Community. Lakeview Chicago is the home of Boystown, one of the largest LGBTQ communities in the United States. The Archdiocese of Chicago has created an outreach for the LGBTQ Community called AGLO. The AGLO service is held every Sunday evening at 7:00 PM. Because of the special needs of the LGBTQ Community the Catholic Church has embraced an attituded of diversity. However, this outreach is extrinsic and not inward looking. Thus, the AGLO program has put together other outreach programs under it's own umbrella with the support of the Catholic Church.
Today, because of the loving kindness of the Catholic Church and the parish of Our Lady of Mt. Carmel there is a strong Spiritual bond in the LGBTQ Community in Chicago.
Mt. Carmel #143A
Our Lady of Mt Carmel #143A Catholic Church, like it's giant hill counterpart in Israel, stands like a rock on Belmont Street in Chicago
Catholic Church
The drawing is of a church, a universal group of people meet for prayer for Mt. Carmel #143A.
Pencil Drawing
The pencil drawing is a sketch of a picture to be drafted up as an image of Mt. Carmel #143A.
JPEG & PDF Scans
JPEG & PDF files are image formats used to make scans for Mt. Carmel #143A.
Alt Image Tags for Mt. Carmel #143A
Mt. Carmel #143A Catholic Church pencil drawing & JPEG scans.
Posts
Related Links