Description
Arizona desert landscape #623A pen & ink drawing, watercolor garden painting by artist Stephen F. Condren, BFA-SAIC. Desert garden prints and reproductions can be made of JPEG and PDF scans. Because the thin lines made by the pen & ink show the landscape elements of the Arizona desert.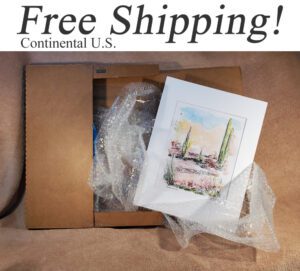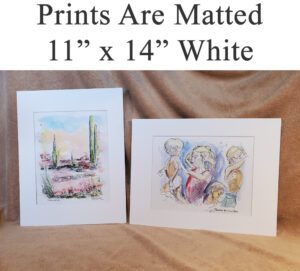 Phoenix Watercolor
This fine watercolor painting is in the garden of my daughter's house in Phoenix, AZ.
Pen & Ink
The thin pen & ink lines of the stylus bring out the details of the plants in the garden and the cactus.
Drawing
The drawing is a pencil sketch to start and then when the composition is in place I commence the inking.
Prints
This desert garden scene is available as prints and can be made into large poster reproductions.
Image Scans
JPEG & PDF files are image formats used to make scans for prints and reproductions for Arizona desert landscape #623A.
Alt Image Tag
Arizona desert landscape #623A pen & ink garden watercolor with it's view of cactus flowers, and grasses.
The Desert
Sketching the drawing first in pencil then following with ink finishing the desert drawing. Therefore, since my daughter lives here, this Phoenix landscape watercolor is of a garden at a private residence in Phoenix, Arizona. The background is shown with mountains and clear blue sky.
Because I was always impressed by the landscape of the desert due to my mother's love of it, so I keep mom in mind. Most importantly my mother always had a love for the southwest and the culture of it. Mom always stated that there is a special kind of beauty to the desert that is unique and beautiful. Reflecting on her words I sat down in my daughter's back yard and did this landscape. When I think of the desert I think of the famous architect Ludwig Mies van Der Rohe's famous line "Less is more". However, in this case more is more.
Related Posts