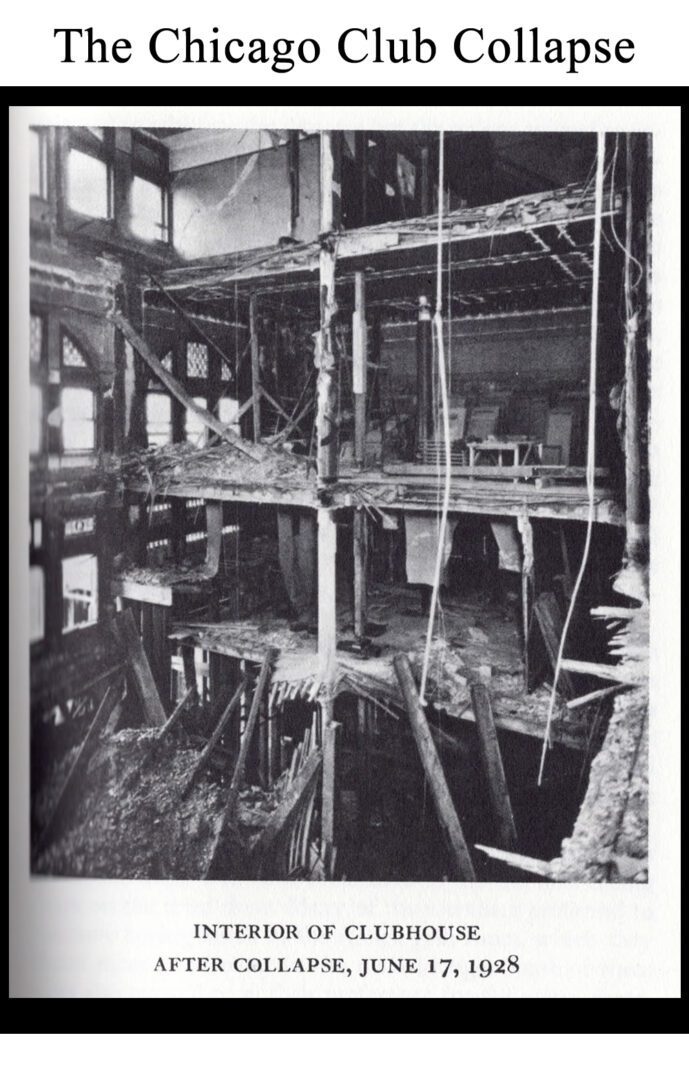 This article is about the Chicago Club collapse #249Z of the interior building on Michigan Avenue in downtown Chicago, written by artist Stephen F. Condren, SAIC, of Condren Galleries, a Fine Arts Gallery, offering JPEG & PDF scans. As a former member of the Chicago Club I learned of an interesting chapter in the book of the club's history. When I joined the club I was given a book on the club's history as a new member's gift. The title of the book is "The history of the Chicago Club", by Emmett Dedmon, 1960. On June 17, 1928 the entire interior of the Chicago Club (formerly the Art Institute of Chicago) collapsed leaving the building in ruins. No injuries were recorded.Key points
Chicago Club Collapse 1/9/2019B
Chicago Club collapse 1/9/2019 is an historic event that impacts Chicago and the history of Art. The Chicago Club was the original home of the Art Institute of Chicago. It was on the Sunday afternoon of June 27th that the security guard suddenly heard loud and violent noises coming from within the clubhouse. In fear of the unknown the guard immediately left the building. He made an exit from the front entrance onto Michigan Avenue and then to Van Buren. Little did he realize that the sounds he had heard with the fracturing of the supporting beams!
Just a few minutes after leaving the building the entire interior of the structure collapsed. The Chicago Club at that time was closed on Sunday so fortunately no one was injured. The club has already built an annex build adjacent to the older building, designed by Daniel Burnham. The annex can be seen in the photo below immediately behind the main building. Since that time the club tore down the ruined building and completed the clubhouse in the same style as the annex building.
It should be noted that this was an architect's error. The design of the building put the main beam of support on a hard surface thinking that it was bedrock. However, in truth there was a small cavern below that "bedrock".
Had the building collapsed at a time when the structure was the Art Institute of Chicago the incident would have been a catastrophe. Not only would many people have been killed and injured, but the loss of priceless works of art would be gone forever.