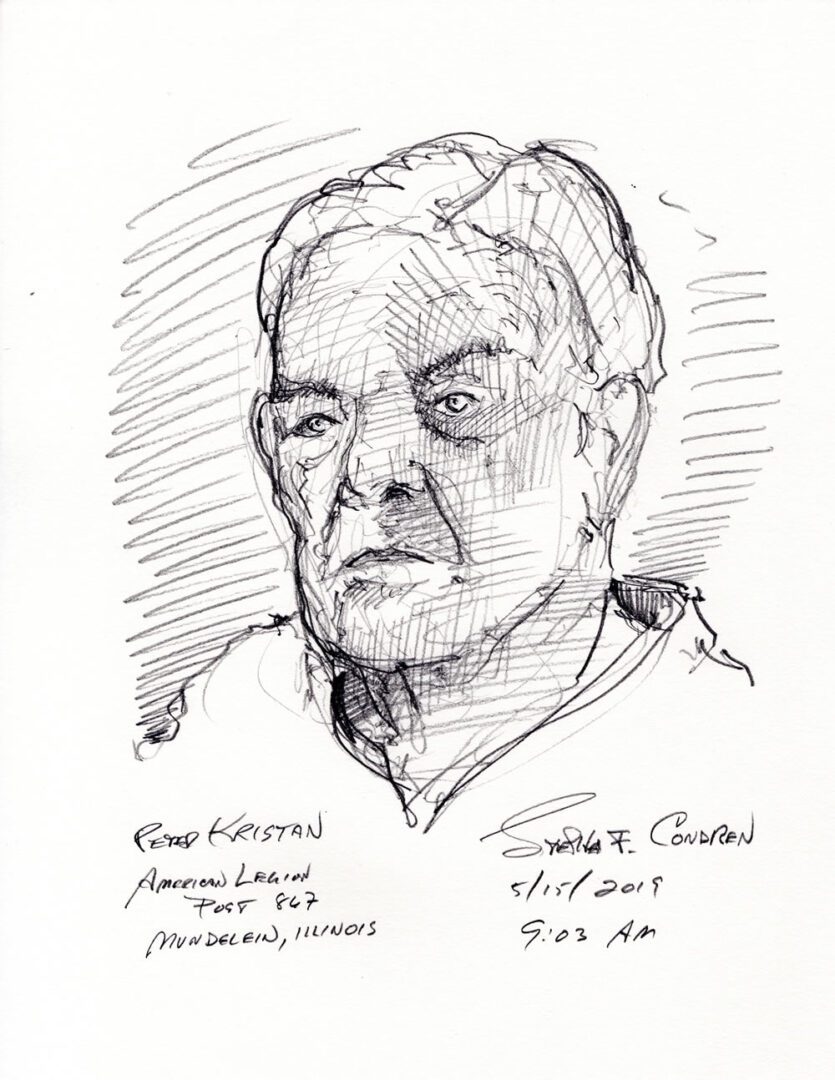 Pencil portrait of Peter Kristan
This article is about American Legion drawing #279Z, of Peter Kristan, and written by artist and United States Navy Veteran, Stephen F. Condren, BFA-SAIC, of Condren Galleries, a Fine Arts Gallery, which comes with JPEG & PDF scans for making prints, note cards, and stationery. Congratulations Peter Kristan!
Posted on Google+, Facebook, Twitter, Linked-in, and Tumblr.
Peter Kristan
Peter is the founder and owner of Kristan Funeral Home & Cremation Services, in Mundelein, Illinois.
Libertyville
Peter grew up in Liberyville, Illinois, and was classmates with Hollywood celebrity, Marlon Brando. Peter told me that he know him and that everyone called him "Bud". This is the first time that I have ever known that Marlon Brando was called this. Also, Peter said that "Bud" was a quiet guy that kept to himself.
Pencil Drawing For American Legion Drawing #301Z
The day before this I had coffee with Peter at our "Cup of Joe" at the Area Coffee shop, hosted by Lake County Veterans & Family Services. As we were talking I asked him if I could draw his portrait tomorrow morning at the Post's weekly coffee, and he said yes.
Mundelein Post #867
The next morning when I arrived at the coffee, I saw Peter, and I went up to him and said "let me settle in for a bit and then I will come over to draw your portrait.
The Drawing
Quick Sketch
It must be understood that this drawing is a sketch or vignette and not a "Studio" drawing or rendering. This is meant to be free and fresh, done right on the spot in a few minutes. All in all, the drawing took me about 10 minutes to do.
Peter was an outstanding sitter, and I will say, one of the best I have worked with in a long time. He did just as I asked, and never looked down to see what I was drawing. This is important, because I need to have the sitter looking at me in the eye at all time as I draw him to that I have the correct position of his eye balls. Even the slightest error in line placement at this point can ruin everything. The eyes are the most important element of any portrait.
Because I started the drawing with light lines making circles to place the size and scale of the figure. If you look closely you can see the light lines below the face.
As I capture more of Peter's image, I then darkened the contour lines to give strength to his form. Following the lines, I made use of hatching and cross-hatching to give shade and shadow to the figure. This is important in bringing out the character of the sitter.
You have to be careful not to put down too many lines, just use enough to capture the spirit of the man!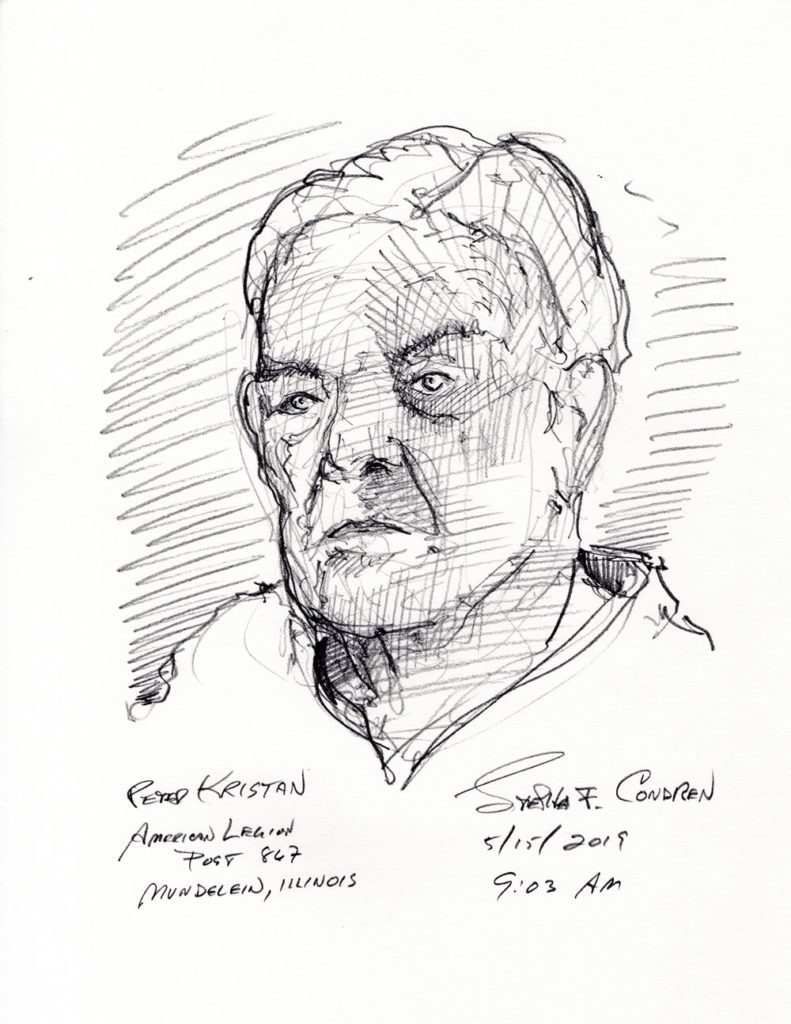 Scans
Scans of American Legion drawing #301Z are available in JPEG or PDF formats for making prints, note cards, or posters.

Condren Galleries Ltd. For American Legion Drawing #301Z
Condren Galleries is pleased to have been to participate in the execution of American Legion drawing #301Z.
Stephen F. Condren For American Legion Drawing #301Z
As an artist I have made American Legion drawing #301Z a staple of my portraiture works.
Alt Image Tag
American Legion drawing #301Z pen & ink drawing with prints by artist Stephen F. Condren at Condren Galleries.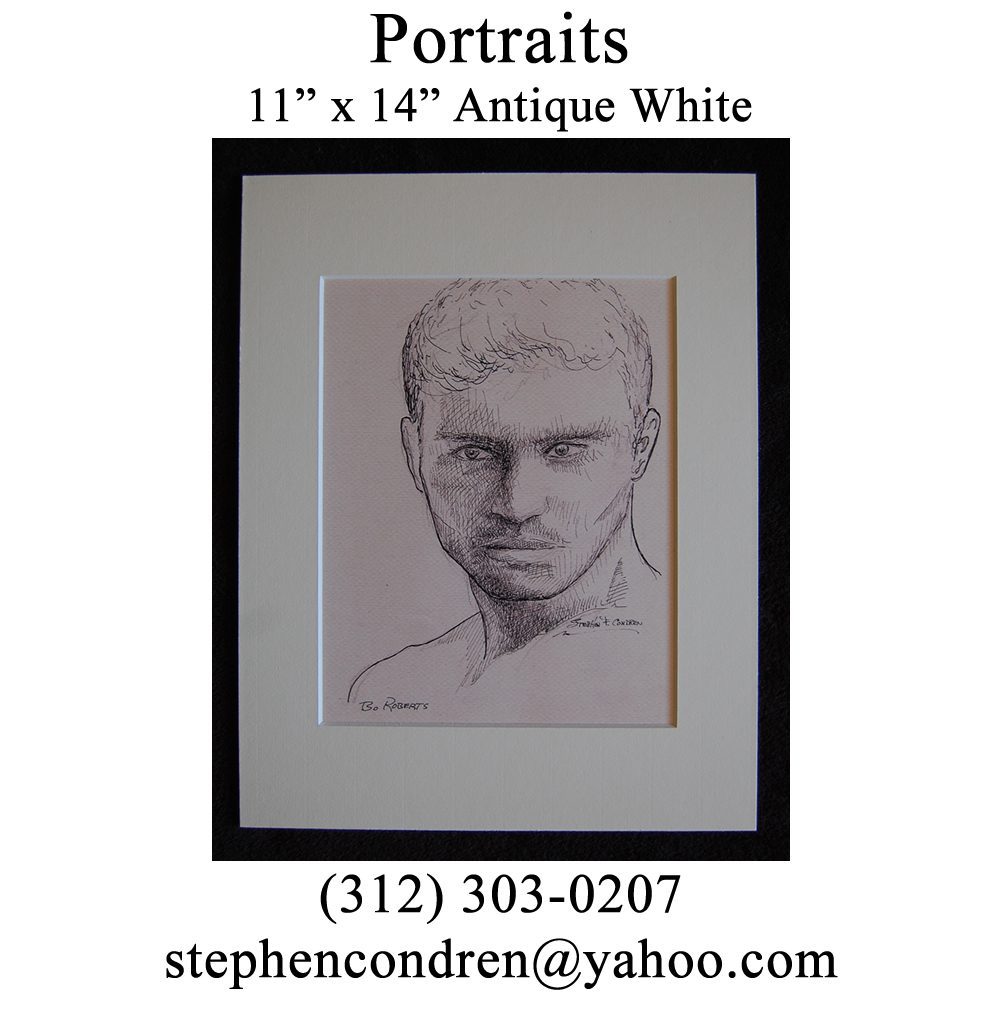 Related Links
American Legion Drawing #296Z