Description
Chicago Skyline Pen & Ink At Night
Chicago skyline #856A pen & ink drawing at night, which is a cityscape stylus sketch at twilight, is for sale at discount with prints by artist Stephen F. Condren, BFA-SAIC, of Condren Galleries, a Fine Arts Gallery, offering JPEG & PDF scans. This pen & ink is taken from the southeast corner of the Loop.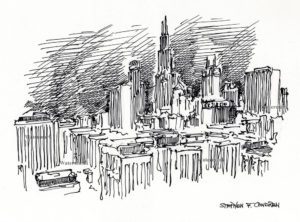 Night Time
Night time views of a city are an interesting way of looking at light. The dark sky makes for a high contrast to the bright lights of the city street. In between these two poles is a spectrum that can be harnessed in pen & ink. It is through hatching and cross-hatching that best captures light.
Chicago Loop
The task of this drawing is to understand the cityscape at night in terms of pen & ink. Thus, I have used fine line hatching to make the evening sky. For the base of the architectural structures I have left the space more open so as to suggest the light emitting from the streets. I did not want to darken too much between the structures and muddy up the fine detailing.
Key features:
Time of day
Delineation
Shade & shadows
Posts
Related Links
Atlanta Skyline Drawings, Atlanta pen & ink skyline, Atlanta skyline art, Philadelphia skyline charcoal drawing, Chicago skyline pen & ink,