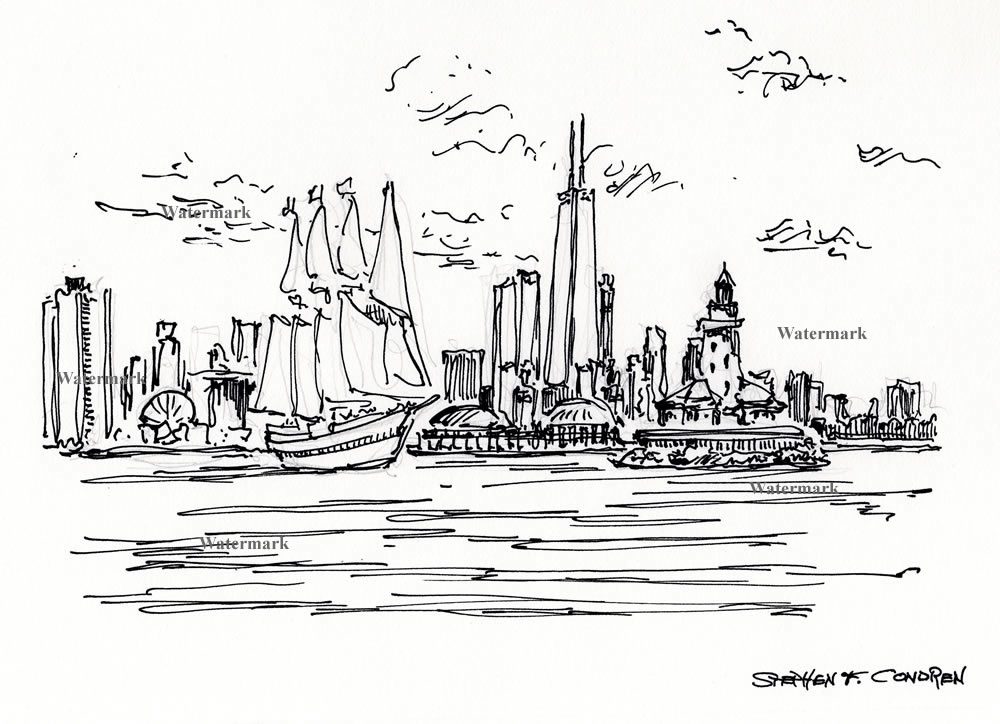 This article is about Chicago skyline #743B is a cityscape pen & ink drawing, which is for sale here, at discount with prints by artist Stephen F. Condren, SAIC, of Condren Galleries, a Fine Arts Gallery, offering JPEG & PDF scans. This pen & ink is by artist Stephen F. Condren, BFA-SAIC. The scene is from Lake Michigan looking at a glorious windjammer sailing by the Chicago Harbor Lighthouse. In the background Chicago Navy Pier can be seen under the towering figures of the Chicago skyline just behind. The setting of the pen & ink drawing is on the shores of Lake Michigan.
To the right of the windjammer is the Chicago Harbor Lighthouse. Behind the lighthouse you can see Chicago Navy Pier. The backdrop of the rendering is the world famous Chicago skyline. The focal point of the skyline is the 100 story John Hancock Center which is in a cluster of other very tall buildings.
To the far left the image of Lake Point Tower can be seen as a sort of book stop that holds up the left side of the drawing. The glory of the drawing is the wonderful windjammer moving across the waters of Lake Michigan.