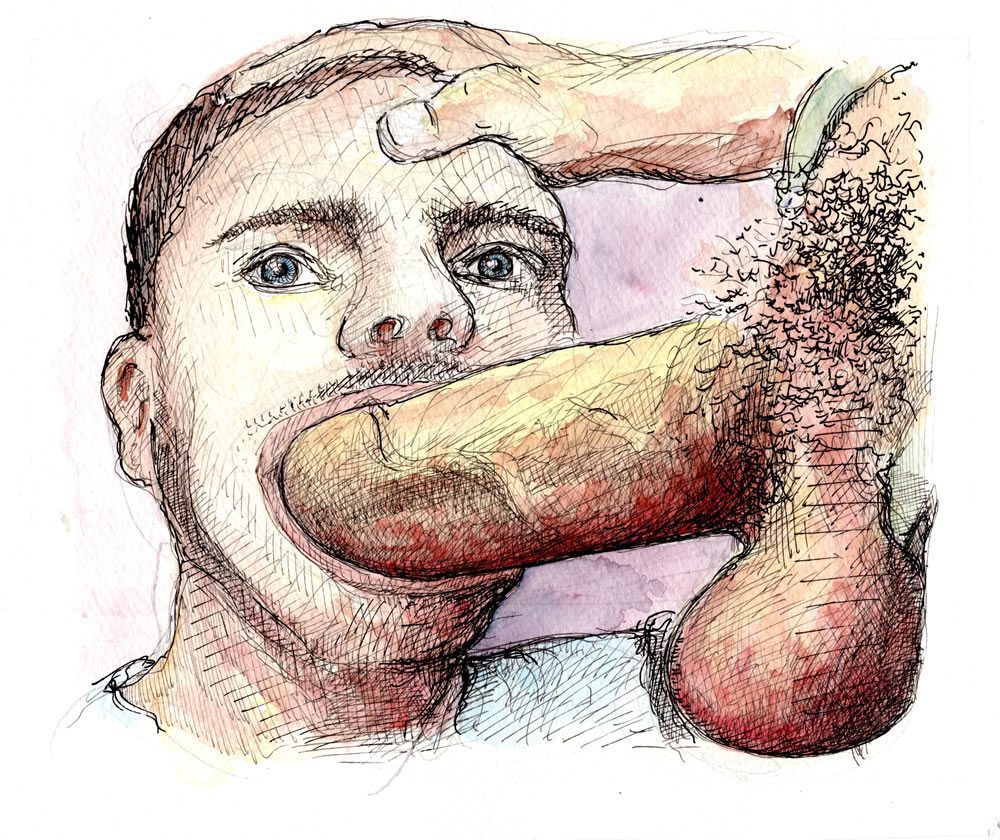 Deep Throat #639Z or wide mouth, pen & ink cock porn watercolor, and dick sucking drawings, with LGBTQ endorsed gay prints, and scans. Prints & Scans Of This Figure Drawing #639Z ~ Order Here.
Posted on Google+, Facebook, Twitter, Linked-in, and Tumblr.
Deep Throat
Wide Mouth
This pen & ink watercolor is a sarcastic parody in gay terms of the famous X-rated porn movie "Deep Throat".
Deep Throat #639Z
This young man certainly has his mouth full, and I am sorry to say that he is not able to talk on the phone right now! The rendering is a play on gay porn, and erotic male sex that is so common today on the Internet. In life today you need to ad some humor to make it through the day. This comical drawing is a great spoof on the deep rooted worries of pornography. Since the beginning of time the penis or phallus has been depicted in art of every type. Artwork for drawings, paintings, sculpture, and even architecture have been created in the shape of a penis ~ and we have survived!
Pen & Ink
I have done the pen & ink first as the primary start for the watercolor, because this is the foundation of the work of art. The rendering is first lightly sketched in pencil as a guide for the pen & ink that follows. The term fellatio is the technical term for cock sucking or a common blow job.
Alt Image Tag
Deep throat #639Z or wide mouth, with LGBTQ endorsed gay prints, and scans.
Related Links
Penis #520Z