Description
Chicago skyline #750A pen & ink drawing, which is for sale here, at discount with prints by artist and United States Navy Veteran, Stephen F. Condren, BFA, SAIC, of Condren Galleries, a Fine Arts Gallery, offering JPEG & PDF scans. This pen & ink drawing is looking south over Lincoln Park. The view is dominated by 875 N. Michigan Avenue, formerly the John Hancock Center. However as you look to the right you can see other building from the famous skyline, even the point of Trump Tower. Because Chicago skyline #750A is great, it's prints are great!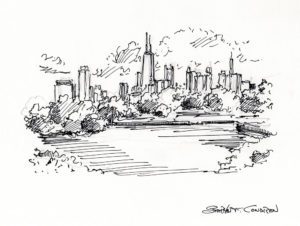 The detailing is light and brisk capturing the essence of the forms.
Key features:
Tree in the park
Delineation
Hatching
The use of hatching and cross-hatching was at a minimum as the form of the trees gracious sculpted the landscaping. At the very front of the rendering is the pond adjacent the Lincoln Park Zoo, which is to the right and out of sight. The pond is small and there is very little activity in it. However, the water gives a soft touch to the drawing's composition.
The delineation is clear.
Scans in PDF and JPEG formats available for Chicago Skyline #750A
JPEG and PDF scan formats for prints, posters, note cards, and graphic art reproductions are available for Chicago Skyline #750A.
Related Links